Senior Full Stack Developer | Melbourne-VIC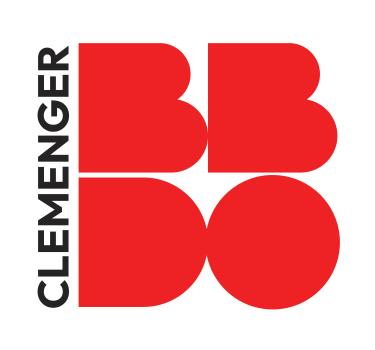 28-Feb-2018
CLM/1316494
Melbourne-VIC
| | |
| --- | --- |
| Category: | Digital Production |
| Position Type: | Full Time |
| Attachments: | No File Attached |
| Share This: | |
Job Description
Clemenger BBDO is a full service agency offering a full suite of capabilities including brand strategy, integrated creative development, CX, digital services, CRM, PR, design, shopper and activation. In the last 12 months the agency has been named World's most creative agency at Cannes Lions and D&AD.
At Clemenger BBDO, the thing we care about most is creativity. Or as we call it, "The Work, The Work, The Work". We believe The Work is the only true measure of an agency. The Work is where the brand meets the consumer. The Work is what touches their hearts and minds. The Work is what leads to the sale. And so all of our efforts are devoted to creating work that is unique, powerful and convincing. http://clemengerbbdo.com.au
Our commitment to our people is paramount, we have several training and development programmes that allow the opportunity for our developers to grow their skills and development capabilities in bleeding edge technologies as well as established globally leading platforms.
Responsibilities
Clemenger BBDO is looking for an experienced Node.js / JavaScript Developer to join its Digital Department headquarted in Melbourne, Australia.
As such, you'll have to deliver on ambitious projects for our bigger clients incuding Airbnb, Mercedes-Benz, MARS, TAC Australia, NAB, Tourism Victoria, MLC... Most of the projects Clemenger BBDO works on are highly interactive campaign websites. Mostly Frontend, with a serverless approach using full capabilities of AWS Services, GraphQL and the like.
A snapshot of our biggest projects over the last 12 months includes Airbnb's Until we all belong, a campaign for marriage equality in Australia https://untilweallbelong.com ; TAC's Meet Graham, which introduce "Graham", the only person designed to survive on our roads http://meetgraham.com.au ; Snickers Hungerithm, an hunger-algorithm built for MARS that monitors online mood using tweets. When anger goes up, Snickers prices goes down in real-time https://www.hungerithm.com
Required Skills & Experience
-          At least 4+ years of development experience (including 1.5+ years of agency experience)
-          Extensive experience with Node.js, Express (or similar) and JavaScript (ES5 & up)
-          Extensive experience with AWS services and serverless concepts
-          Experience with GraphQL, databases and builiding API's
-          Experience with Nginx, SSL certificates and DNS config
-          Strong with tools like Gulp, Npm, Yarn, Webpack and Babel
-          Strong with HTML5 & CSS3 (Sass preprocessor)
-          Comfortable with GIT version control
-          Comfortable with writing Unit Tests (Jest or similar)
-          Comfortable with commenting code and writing clear documentations
-          Bonus for any JS Frameworks experience (Vue.js preferred)
Applying
We know your time is precious, so please make sure that you fully read the job description and that your have the required skills and experiences listed above before applying.
Want to apply? Please send your updated Resume AND your Portfolio / Github account by email to Jamie.Francis@clemenger.com.au