Senior Creative - Activation | Melbourne-VIC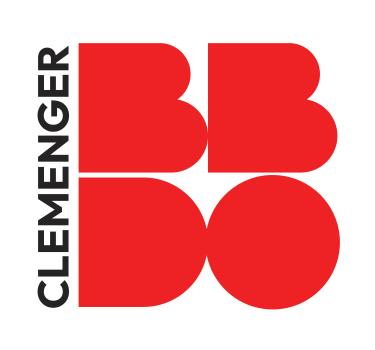 02-Mar-2018
CLM/1319987
Melbourne-VIC
| | |
| --- | --- |
| Category: | Creative |
| Position Type: | Full Time |
| Attachments: | No File Attached |
| Share This: | |
Job Description
Clemenger BBDO Melbourne is on the hunt for a Senior Creative to our newly formed Activation department. As the lead creative for the department's Experiential offering, you'll be a radiator of ideas whose relentless drive for collaborative concept pushes the boundaries of interactive creativity.
You'll be a truly integrated, conceptual and strategic thinker; an explorer possessing a rounded understanding and profound curiosity of the times we live in. A keen listener and passionate thought leader who's always on the lookout for the latest in trends and new technologies within experiential, digital and retail marketing. 
Responsibilities:
You will be responsible for selling in many of the ideas you help ideate, so the creation of client-facing presentations is crucial. This includes written rationale and idea articulation both internally and externally
After the ideas are created and sold in, you will smoothly transition and lead the project into the design and art department, providing direction where required to maintain a high-quality output
Working directly with the CD, you'll lead and champion the design team and studio to produce best in class work across the entire output
You'll have the fortitude to take on board feedback from the project team, the courage to know when to respectfully challenge it, and the willingness to work in amicable collaboration with other agency staff and suppliers
You'll work both independently and collaboratively on a range of Experiential projects across a number of media and clients. Ability to both lead and follow direction on design/conceptual work is crucial. You will take projects both from briefing through to ideation and visualization, through to rollout, before handing them over to Studio to complete Finished Art
You should be incredibly passionate about new developments in the creative sphere, such as design, advertising, art and retail environments from a local and global perspective. We require you to have the ability to rationalise your design decisions via a variety of methods to convey concepts (scamps, renders, presentations, etc)
You'll work closely with our Account Service team to ensure your creative product is on brief. Ensuring work is ready to present on time, and that presentation materials are developed as required and participating in the presentation of the work
Desired Skills and Experience:
A minimum of 5+ years' experience gained in an experiential or creative agency
Knowledge of experiential spaces both traditional and digital (retail marketing experience advantageous to help drive the shopper offering)
Thorough knowledge of print and digital process and production, with a strong understanding of digital
Experience managing and mentoring a team
Understanding of the marketing & promotion process
Highly proficient Adobe Creative Suite (specifically Photoshop, Illustrator, InDesign)
Photographic, motion graphics, video editing or 3D rendering skills a bonus
Tertiary education in a relative design or creative discipline a bonus
About this company:
At Clemenger BBDO Melbourne there are three things we believe in and three things we care about: the work, the work, the work. After all, the work is what the consumer sees, what changes behaviour and what drives the sale. So we aspire to produce the most interesting, engaging and, above all, creative work for our clients. Work that stands out, work that gets noticed, work that is talked about and shared and work that stretches across channels and endures over time.
Please note: All applicants must have valid Australian working rights.