Studio Manager | Melbourne-VIC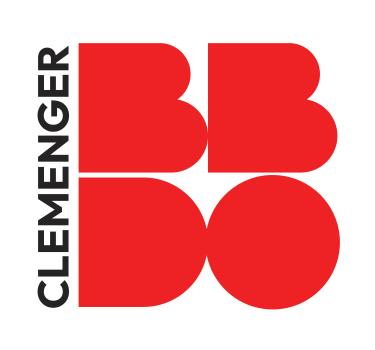 11-Apr-2018
CLM/1322088
Melbourne-VIC
| | |
| --- | --- |
| Category: | Production/Studio |
| Position Type: | Full Time |
| Attachments: | No File Attached |
| Share This: | |
Job Description
We're looking for an exceptional Studio Manager to join our talented team at Clemenger BBDO in Melbourne. As Studio Manager, you will have responsibility for overseeing the running of all print and digital projects through the Studio as well as leading and managing a team of Digital Artists, Retouchers and CGI/Animation artists.
You will be joining a well-established, highly motivated team of passionate people, who are constantly working towards raising the quality of output within the agency and genuinely love what they do.
Responsibilities:
You will oversee the daily running of projects through the Studio with respect to the management of the work schedules, overseeing the issuing of briefs for the studio team, setting priorities, and assisting in professional development as required.
Capacity to lead and manage an effective team through high level people management and leadership skills.
Managing studio resources such as freelancers, equipment and materials to ensure the studio operates at an optimum level.
Work closely with Producers and Creative department to ensure allocated tasks meet required deadlines.
Desired Skills and Experience:
7 + years' experience running a large studio where you have managed large teams.
Able to work in a high-pressured environment.
Demonstrate real time utilisation – resource scheduling.
Experience working with online approval tools.
Proven high level interpersonal and communication skills, and ability to manage information flow upwards and downwards. In addition, an ability to forge strong and professional relationships with key stakeholders within and outside the business.
Strong negotiation and problem-solving capabilities, as well as an ability to make decisions at a strategic level in line with company goals and objectives.
An ability to plan, implement and deliver projects to a satisfactory completion.
High attention to detail.
Effective time management and the ability to prioritise the workflow.
Strong ability in all studio related software applications. This includes Creative Suite and workflow management applications such Asura, Adstream, Quickcut, printer drivers etc.
Strong technical knowledge and understanding of all production - print and digital to ensure correct output of files regardless of end channel use.
Highly skilled in all facets of Finished Art.
Strong knowledge of current industry trends and technology. 
About this company:
At Clemenger BBDO, the thing we care most about is creativity. Or as we call it, 'the work, the work, the work'. It's what makes BBDO different. We believe The Work is the only true measure of an agency. The Work is where the brand meets the consumer. The Work is what touches their hearts and minds. The Work is what leads to the sale. The Work is simply everything we create to reach the consumer. All our resources, all our targets, all our disciplines are devoted to creating work that is unique, powerful and convincing. In the absence of great work, nothing else matters.
Please note: All applicants must have valid Australian working rights.