Editorial Lead
CHE Proximity | Melbourne-VIC

Job Reference:
CLM/1372523
| | |
| --- | --- |
| Category: | Copywriter |
| Position Type: | Full Time |
| Attachments: | No File Attached |
| Share This: | |
Who is CHE Proximity
'Advertising'
It's not what it used to be.
It's about ideas that penetrate culture.
Ideas the world wants and needs. 
Not just 30 second spots and four sheet posters.
At CHE Proximity we're putting advertising back together again.  We solve business problems by starting with the value of customers.
Our agency is at the intersection of data, technology, customer experience, media and brand.
From Apple Watch Apps that make it safe for women to walk the streets at night, to a program of content that genuinely makes small business smarter. From campaigns that blatantly use competitor spend to drive sales, to utilities that reframe complex decisions and make them simple.
'Advertising' isn't the best way to describe what we do at CHE Proximity.
We're building the agency of tomorrow, and making people more valuable to brands.
The Team
The Editorial and Social department is a CHEP division withing Creative that understands the value of earning attention, instilling trust and exercising influence. We specialise in blending content marketing, social media, and influencer and content partnerships.
Our philosophy
If advertising is what you say about yourself, our role is to earn you a place in the conversations others are having about you. By starting with the audience, the things that motivate them, and the cultural forces that influence them, we're able to contribute – not just campaign. Taking a channel agnostic approach, we add utility, education or entertainment to form a meaningful relationship, which translates to brand value and commercial outcomes for the brands we represent.
We earn brands a place in the conversations that matter to them.
That's why we are looking for a new breed of Editorial Lead
Writing's not just putting the right words in the right order – there are plenty of people who can do that. We're looking for someone who understands the context the words live in, who gets excited about persuading people to do something by understanding the user experience. The editor we're talking about can flex creatively, wrapping their heads around editorial, digital copy and social, and how it all fits together strategically. They also know how to manage a team, juggle multiple projects, and present to clients and colleagues with confidence. They're also a jet at editing other's work, too. So the words in the right order still matters.
A day in the life
We are looking for someone who can lead editorial across two of our main clients for a 12-month maternity leave period. They will be adept at coming up with creative concepts, developing strategy and leading an editorial platform.
Developing and overseeing execution of content strategies
Presenting and selling in work to clients
Overseeing and producing editorial copywriting, research, interviews and image sourcing
Overseeing and producing digital copywriting (including eDMs, web copy and advertising)
Editorial idea generation and concepting
Advertising idea generation and concepting
Collaboration across agency departments to deliver world-class work
How will we know you are the one?
Capabilities
Maintain the high standard of editorial and content output at CHE Proximity
Work closely with Head of Editorial and Social in managing workstreams
Deliver and manage editorial and content programs, shaping the strategy and leading teams to deliver exceptional work. 
Developing content strategies for key clients
Brief, edit and oversee internal and external content creators
Liaise with clients to develop and deliver briefs
Editorial copywriting, research, interviews
Managing budgets and timelines with account service and producers
Ability to establish sound content marketing strategies
Ability to adopt multiple tones and styles in your writing
Exceptional editing skills
Maintain close and productive relationships with other members of the editorial and creative teams
Maintain close and productive relationships within the agency, particularly experience and UX teams
Maintain a network of external content creators
Become trusted and loved by clients
Other things that would make you great in this role
The desire to immerse yourself in the entire agency's capability
Empathy and being a 'people person' able to foster collaboration between departments
Strong problem solving skills
An enthusiasm to test new approaches and learn quickly
An interest in future technologies and their applications in digital
Some recent highlights
In addition to growing our business with high profile and forward-thinking clients our creativity and effectiveness has been recognised by our peers.
LBB: 9th Most Creative Agency in the World
Tangrams 2018: Asia Effectiveness Agency of the Year
Australian Effie Awards 2018: Agency of the Year
Mumbrella 2018: Full Service & Media Agency of the Year, Media Campaign of the Year
Adnews 2018: Australian, Victorian & Customer Experience Agency of the Year
Cannes Lions 2018: 1 Gold, 5 Silver, 4 Bronze & 18 Finalists
B&T 2018: Media Agency & Marketing Consultancy of the Year
The One Club's ADC 2018: Australian Agency of the Year
AFR Most Innovative Companies 2018: #4 in Australia and Best Marketing Innovation
The Clemenger Group supports an inclusive workplace and welcomes applicants from diverse backgrounds.
To gain an insight as to what it is like to work at CHE Proximity please click on the people story below: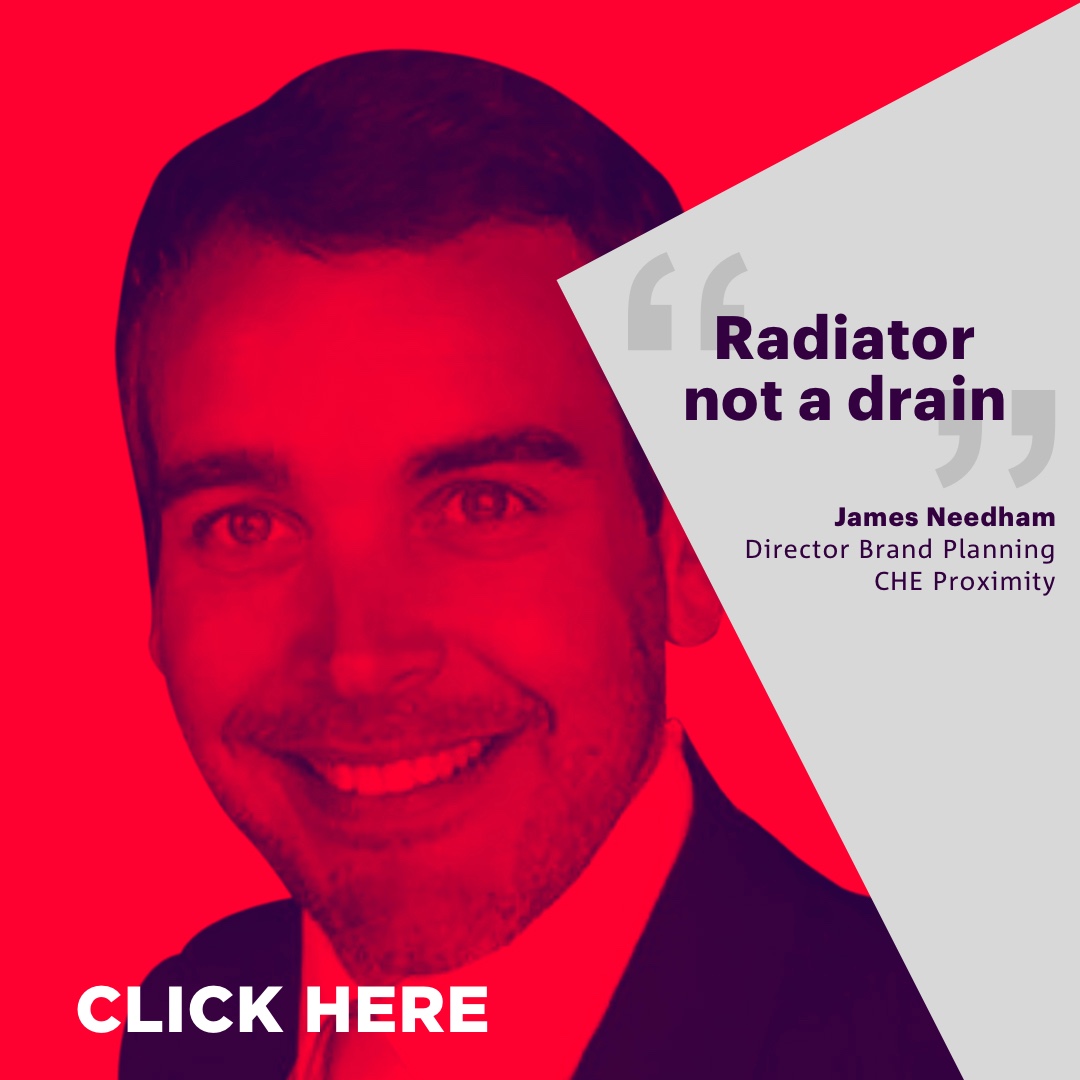 Get notified for similar jobs
You'll receive updates once a week