Digital Operations Manager
CHE Proximity | Melbourne-VIC

Job Reference:
CLM/1385284DOM
| | |
| --- | --- |
| Category: | Digital Production |
| Position Type: | Full Time |
| Attachments: | No File Attached |
| Share This: | |
More than ever before the medium, the message and it's sequencing are inseparable from each other.
Unlike any time in history, connecting the medium, the message, and its sequencing to the consumer is more vital than ever.
Connected creativity is the synchronization of strategic positioning, engaging creative, combined with the next generation of engagement planning to ensure ideas create the cut-through needed to deliver the strongest commercial performances. Today, creativity cannot be left to chance. One brand expression or big TV ad is simply not enough.
More than ever, brands need to live in culture and our consumers worlds, allowing audiences to not only consume brands, but take part in owning, creating and amplifying them. To do this, the role of influencers, publishers, the news and bought media are inseparable from each other and the expression of the idea itself. To create such work, the classic disciplines of the marketing mix – advertising, experience, PR, CRM, media, digital – must all be unified, removing P&Ls, biases and incumbency to reveal a new breed of agnostic agency, resulting in connected creativity.
At CHE Proximity, we see this as the shift from brand as advertising to brand as experience. It is as profound a change in advertising as the printing press was to the democratisation of information. We are investing our every effort into leading this transformation and in doing so, supporting the sustainability of our cherished industry as an essential ingredient of modern commerce.
This is what we call Connected Creativity.
That's why we are looking for the new breed of Digital Operations Manager
As the Digital Operations Manager at CHE Proximity you will act in an instructional and supervisory capacity for digital teams with regard to the resourcing, conduct, communication and ethos of the department to ensure the production of creative excellence.
A DAY IN THE LIFE
Operations and day to day logistics
Encourage and facilitate collaboration and interaction between departments where relevant.
Work with operations director to drive awareness of specialist capabilities and bake in consultation and engagement across the project lifecycle.
Consult with the Operations Director and Tech leads to recognise and understand skill sets of individuals within digital team in order to assign the most appropriate resource at the right time to consistently produce high standards of digital work.
Maintain and update the team schedule to accurately reflect live work.
Build out the future pipeline of real and potential work to identify bottlenecks and issues early in the process.
Process the administrative workflow for purchase orders, holiday forms, expenses, production paperwork and invoices
Work closely with producers to identify and manage resource bottlenecks, clashes and shortfalls ensuring the smooth progress of approved projects, juggling resources and escalating to freelance request if necessary.
Manage fluctuating workflow across a resource team; providing regular capacity forecasts
Assisting with forward planning to recognise contractor future hire requirements, seeking digital contractors by reaching out to suppliers and individual freelancers, and negotiating with external suppliers on rates and costs.
People, culture and ways of working
Assist the Operations Director in facilitating change and developing our human capital.
Be a guardian of process to ensure adoption and consistency in the way work is briefed, booked and executed, applying discretion to enable flexibility in how we work where appropriate.
Evaluate and feedback on agency processes with the Operations Director for the effective running of the creative output of the agency.
Partner with other key operations resources across the Melbourne and Sydney offices to create a shared purpose and respectful and positive collaboration and teamwork for our digital output.
Identify skills needs and shortages and opportunities to develop team members – contributing to growth, staff retention and satisfaction.
Lead by example, displaying a partnership attitude in all areas of work
Act as an enabler between conflicting agendas to find solutions that satisfy client requirements
HOW WILL WE KNOW YOU ARE THE ONE
Digital capabilities
Exposure to team management software (10000ft, Resource Guru or similar)
Appreciation of various types of digital projects from small through to large, and an understanding of digital skill sets
Intimate knowledge of the digital process
Ability to energise and motivate a team
Project management
Skills and attitude you should bring
Positive attitude and strength in adversity
Impeccable organizational skills
Problem solving
Communication skills
Adaptability and openness to change
Negotiation skills
Other things that would make you kick arse in this role
Experience working in a medium to large creative agency.
Traffic or resourcing background
Knowledge of Creative, Content, Print, TV, Digital and PR functions
Empathy and being a 'people person'
KPIs
Reduction in freelance spending in digital teams.
Improved perception of digital department with respect to broader agency engagement (process, efficiency, trust).
Increased utilization of team members across projects.
Improved metrics around staff engagement and sense of ownership in the work we do.
Some recent highlights
In addition to growing our business with high profile and forward-thinking clients our creativity and effectiveness has been recognised by our peers.
Adobe Innovation Award 2018: Data-Driven Marketing Implementation & Multi-Solution Implementation
Contagious Pioneers 2019: placed 5th
The Drum's Big Won Report 2018: 9th Most Creative Agency in the World
Tangrams 2018: Asia Effectiveness Agency of the Year
Australian Effie Awards 2018: Agency of the Year, 1 Gold, 5 Silver
Mumbrella 2018: Full Service & Media Agency of the Year, Media Campaign of the Year
Adnews 2018: Australian, Victorian & Customer Experience Agency of the Year
Cannes Lions 2018: 1 Gold, 5 Silver, 4 Bronze & 18 Finalists
B&T 2018: Media Agency & Marketing Consultancy of the Year
The One Club's ADC 2018: Australian Agency of the Year
Caples 2018: Best in Show, 6 Gold, 9 Silver & 4 Bronze
AFR Most Innovative Companies 2018: #4 in Australia and Best Marketing Innovation
The Clemenger Group supports an inclusive workplace and welcomes applicants from diverse backgrounds.
To gain an insight as to what it is like to work at CHE Proximity please click on the people story below: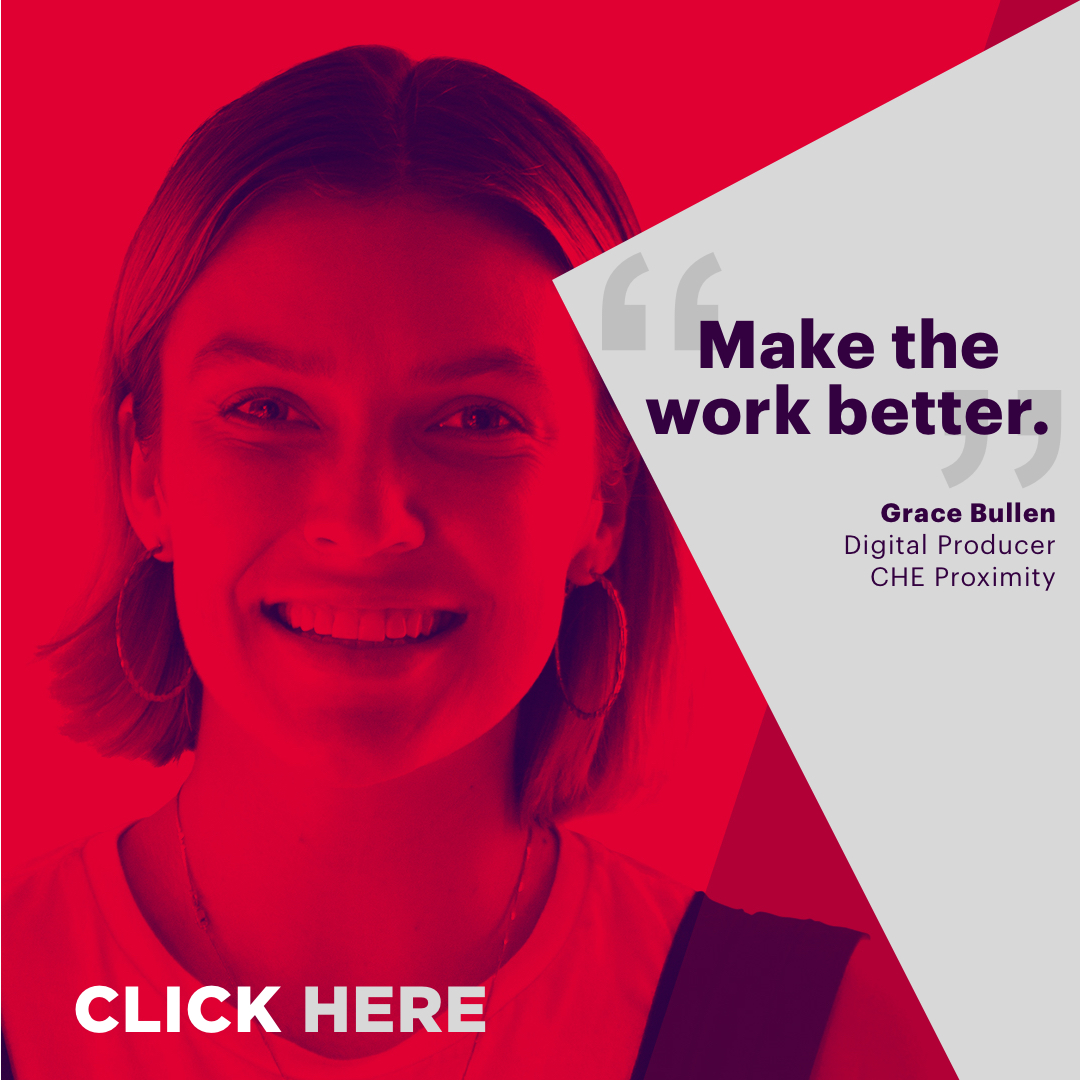 Get notified for similar jobs
You'll receive updates once a week