Account Manager (CX)
CHE Proximity | Melbourne-VIC

Job Reference:
CLM/1392773
| | |
| --- | --- |
| Category: | Account/Project Management |
| Position Type: | Full Time |
| Attachments: | No File Attached |
| Share This: | |
Who is CHE Proximity
'Advertising'
It's not what it used to be.
It's about ideas that penetrate culture.
Ideas the world wants and needs. 
Not just 30 second spots and four sheet posters.
At CHE Proximity we're putting advertising back together again.  We solve business problems by starting with the value of customers
Our agency is at the intersection of data, technology, customer experience, media and brand.
From Apple Watch Apps that make it safe for women to walk the streets at night, to a program of content that genuinely makes small business smarter. From campaigns that blatantly use competitor spend to drive sales, to utilities that reframe complex decisions and make them simple.
'Advertising' isn't the best way to describe what we do at CHE Proximity.
We're building the agency of tomorrow, and making people more valuable to brands.
That's why we are looking for a new breed of Account Manager

An Account Manager that loves creativity and the opportunities new technologies provide. Change is something they thrive on and moving fast keeps it interesting for them.
No task is too big, actually the bigger the task the bigger the challenge. And there is nothing better than delivering what others thought was not possible. So they are the ones they love the most.
A day in the life
Comprehensive management of CRM Program activity from initial client brief to delivery.
Manage and own multiple projects, programs of work, and clients with supreme organization, fantastic communication and project management skills.
Development and ownership of task and production briefs, timelines, status documentation and estimates.
Management of project budgets, utilising budget trackers and completing reconciliations as necessary.
Proactively manage the relationship between the agency, client and external suppliers
Manage client feedback and expectations, interrogating business decisions and objectives to enable thorough and efficient project debriefs within the agency.
Support the Snr Account Managers with development of strategic documentation to answer clients' business challenges and objectives.
Support the broader agency by assisting in the development and management of internal agency initiatives.
Collaborate with Snr Account Managers to produce sound and strategic creative briefs, leveraging customer and data insight, a deep knowledge of our clients' product and program of work, and developing inspiring propositions.
How will we know you are the one?
Management capabilities
Ensuring passion for ideas; whether business, marketing or communication focused
Ability to persuade and inspire agency resources and clients
Be organised, with strong attention to detail and time management skills
An effective communicator, both verbally and written
Be resilient and positive in difficult situations
Multi tasker – ability to juggle competing demands from client and agency
Experience with highly targeted, dynamic communication programs (whether digital or print, BTL)
Intuitive ability to balance business objectives with customer-centric marketing  
Analytical skills, with the ability to make the complex simple
Disciplined, efficient approach to problem solving with the ability to be both rigorously analytical and intuitive
Not afraid to get amongst the tools to make things happen
Ability to work independently, and as a team, as required
Other things that would make you excel in this role
Experience in CRM is preferable 
Always positive, even in circumstances of extreme pressure
Loves working with people and gets on with anyone
Wants to do innovative work, that no one has done before
Challenges the status quo in everything they do
Some recent highlights
In addition to growing our business with high profile and forward-thinking clients our creativity and effectiveness has been recognised by our peers.
The Drum's Big Won Report: 9th Most Creative Agency in the World, 2018
Tangrams 2018: Asia Effectiveness Agency of the Year
Australian Effie Awards 2018: Agency of the Year, 1 Gold, 5 Silver
Mumbrella 2018: Full Service & Media Agency of the Year, Media Campaign of the Year
Adnews 2018: Australian, Victorian & Customer Experience Agency of the Year
Cannes Lions 2018: 1 Gold, 5 Silver, 4 Bronze & 18 Finalists
B&T 2017: Australian, Advertising & Direct/Performance Agency of the Year
The One Club's ADC 2018: Australian Agency of the Year
Caples 2018: Best in Show, 6 Gold, 9 Silver & 4 Bronze
AFR 2018: 4th most innovative company in Australia
The Clemenger Group supports an inclusive workplace and welcomes applicants from diverse backgrounds.
To gain an insight as to what it is like to work at CHE Proximity please click on the people story below: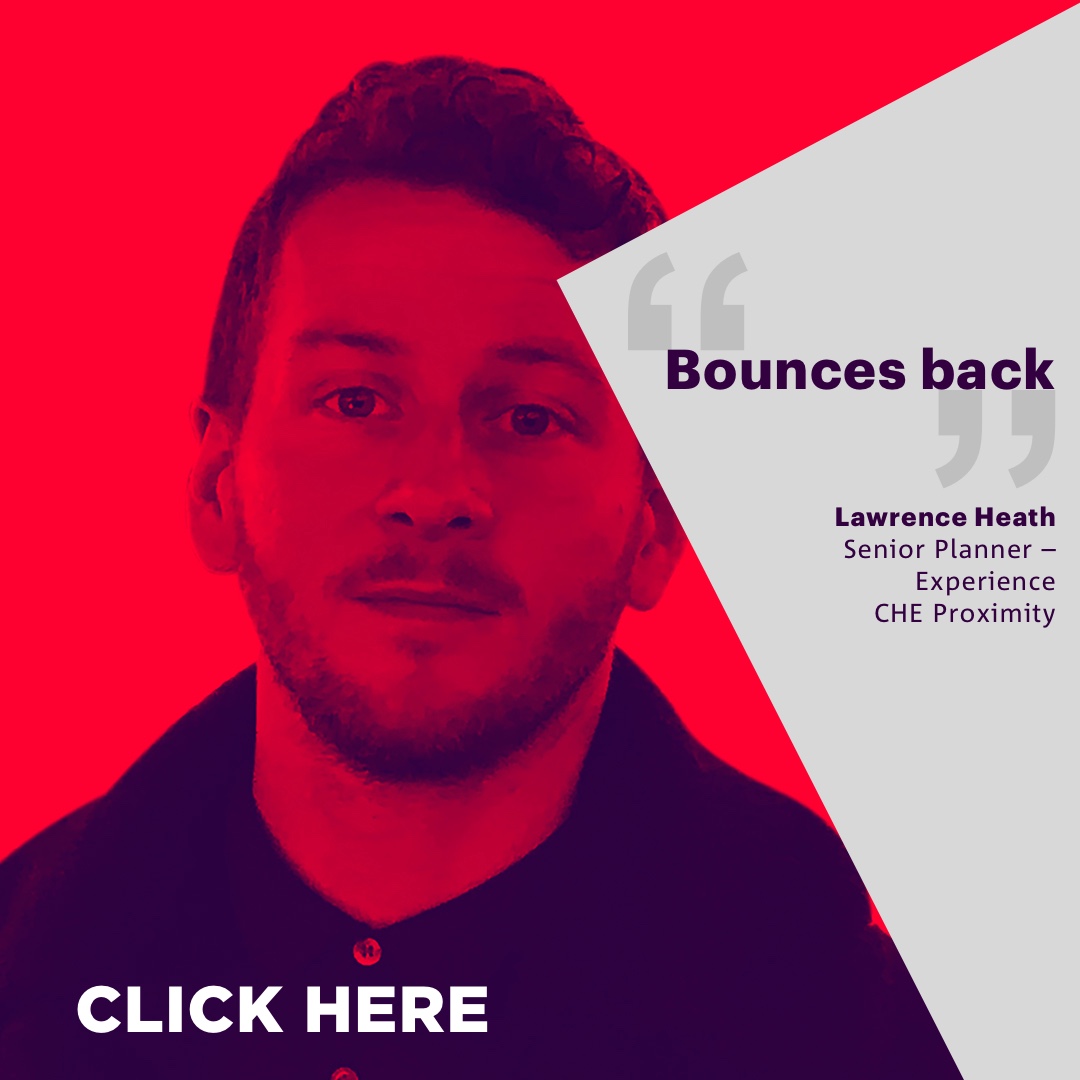 Get notified for similar jobs
You'll receive updates once a week