AEM Developer
CHE Proximity | Melbourne-VIC

Job Reference:
CLM/1393491
| | |
| --- | --- |
| Category: | Digital Development |
| Position Type: | Full Time |
| Attachments: | No File Attached |
| Share This: | |
WHO IS CHE PROXIMITY
'Advertising'
It's not what it used to be.
It's about ideas that penetrate culture.
Ideas the world wants and needs. 
Not just 30 second spots and four sheet posters.
At CHE Proximity we're putting advertising back together again.  We solve business problems by starting with the value of customers
Our agency is at the intersection of data, technology, customer experience, media and brand.
From Apple Watch Apps that make it safe for women to walk the streets at night, to a program of content that genuinely makes small business smarter. From campaigns that blatantly use competitor spend to drive sales, to utilities that reframe complex decisions and make them simple.
'Advertising' isn't the best way to describe what we do at CHE Proximity.
We're building the agency of tomorrow, and making people move valuable to brands.
THAT'S WHY WE ARE LOOKING FOR A PASSIONATE AEM ENGINEER

A Senior AEM Engineer that loves technology, creativity, solving problems, communicating with clients and the opportunity to learn in a fast pace environment. Change is something they thrive on and moving fast keeps it interesting for them.
No task is too big, actually the bigger the task the bigger the challenge. And there is nothing better than delivering what others thought was not possible. So they are the ones they love the most.
A DAY IN THE LIFE
Working on existing and new Adobe Experience Manager web projects.
Scoping technical requirements, Senior AEM Architecture and feasibility of concepts and projects.
Work closely with Digital Producers, Digital Designers, UX Designers, Developers and QA Testers.
Use exceptional interpersonal skills to establish best AEM practices and processes for the department.
Working hand-on on Backend enterprise-scale CMS, eCommerce and bespoke integration projects.
Coach and develop junior developers capable of technical consultation and communication with senior agency and client stakeholders.
Capture technical requirements client projects.
Revising functional and technical specifications carried out by Solution Architects and Technical Directors.
Work with the digital services manager and digital producers ensuring projects are correctly and adequately resourced.
Manage and maintain production sites hosted on Linux and Windows servers.
HOW WILL WE KNOW YOU ARE THE ONE
Mandatory technical capabilities
Current/Previous experience as Senior AEM Engineer.
Extensive experience working across backend and AWS technologies across a variety of client verticals.
Experience with establishing the following frameworks and development practices:

Java 8+
AEM 6.X with exposure to 6.3
JavaScript (Nashorn and Node.JS), npm.
AWS experience with essential services: EC2, RDS, S3, CloudFront, API Gateway and IAM.
Version control (Git).
Ticketing systems (Jira, Trello).
CI/CD experience (any pipeline).
Unit-testing, automated backend testing and smoke testing.
Fundamental understanding the concept of Front-end's SPA (React / VueJS) and front-end  application lifecycle.

Comfortable working in Agile/SCRUM/Lean workflows
Desirable capabilities
Extensive experience as an AEM Developer working in an agency environment.
Docker experience
AWS experience with services: DynamoDB, Lambda, API Gateway, CloudFormation.
Experience working with marketing or optimization platforms such as Adobe Analytics/Targets/Audience, Marketo, Optimisely.
Experience with marketing automation platforms such as Eloqua, Salesforce Marketing Cloud.
Experience working with front-end stacks such as React.
Other elements that would make you excel in this role:
Communication skill
Always positive, even in circumstances of extreme pressure
Loves working with a team and gets on with anyone
Ambitious to grow
Wants to do innovative work, that no one has done before
Challenges the status quo in everything they do
Some recent highlights
In addition to growing our business with high profile and forward-thinking clients our creativity and effectiveness has been recognised by our peers.
Adobe Innovation Award 2018: Data-Driven Marketing Implementation & Multi-Solution Implementation
Contagious Pioneers 2019: placed 5th
The Drum's Big Won Report 2018: 9th Most Creative Agency in the World
Tangrams 2018: Asia Effectiveness Agency of the Year
Australian Effie Awards 2018: Agency of the Year, 1 Gold, 5 Silver
Mumbrella 2018: Full Service & Media Agency of the Year, Media Campaign of the Year
Adnews 2018: Australian, Victorian & Customer Experience Agency of the Year
Cannes Lions 2018: 1 Gold, 5 Silver, 4 Bronze & 18 Finalists
B&T 2018: Media Agency & Marketing Consultancy of the Year
The One Club's ADC 2018: Australian Agency of the Year
Caples 2018: Best in Show, 6 Gold, 9 Silver & 4 Bronze
AFR Most Innovative Companies 2018: #4 in Australia and Best Marketing Innovation
The Clemenger Group supports an inclusive workplace and welcomes applicants from diverse backgrounds.
To gain an insight as to what it is like to work at CHE Proximity please click on the people story below: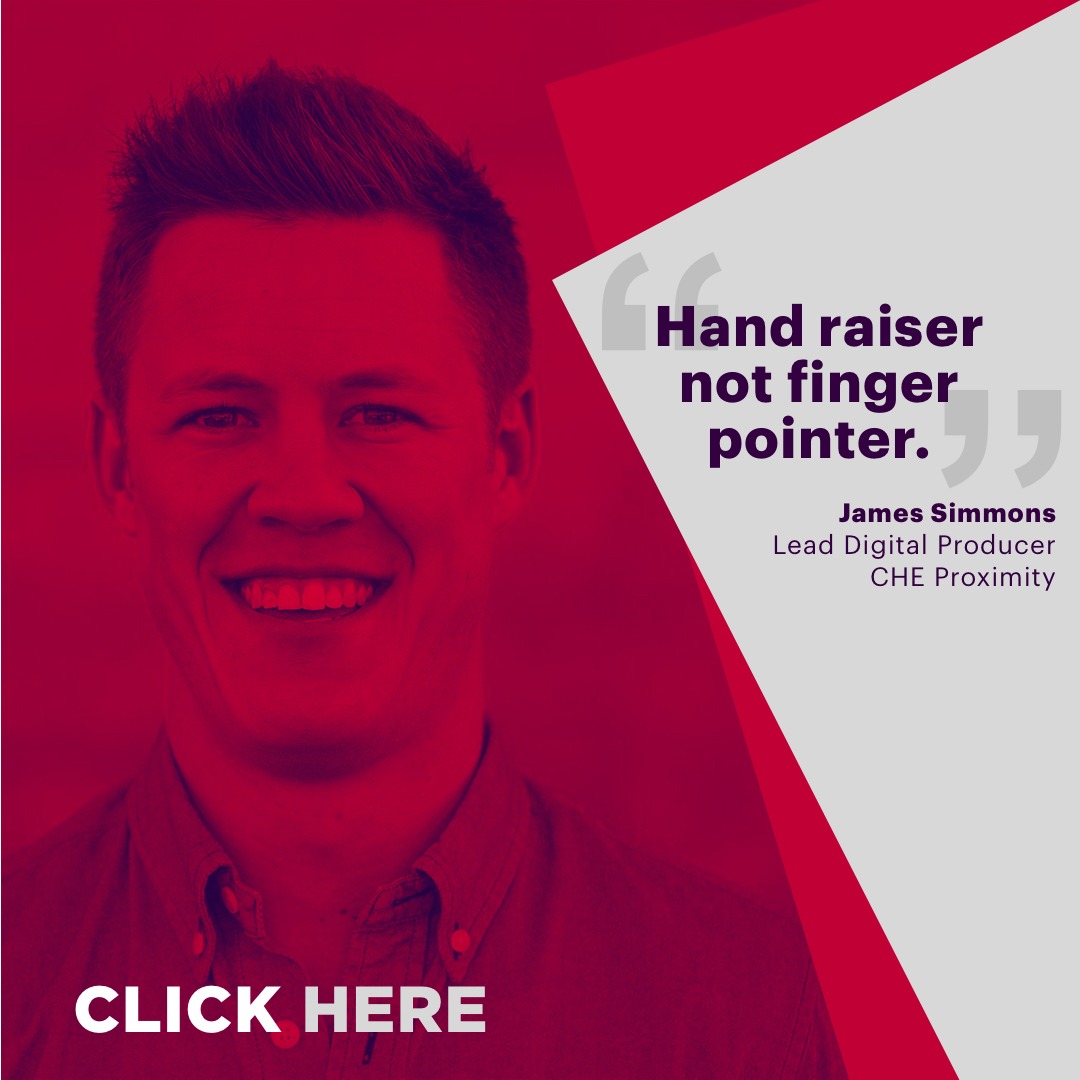 Get notified for similar jobs
You'll receive updates once a week