Senior Copywriter
CHE Proximity | Melbourne-VIC

Job Reference:
CLM/1399464
| | |
| --- | --- |
| Category: | Creative/Design |
| Position Type: | Full Time |
| Attachments: | No File Attached |
| Share This: | |
More than ever before the medium, the message and it's sequencing are inseparable from each other
'Unlike any time in history, connecting the medium, the message, and its sequencing to the consumer is more vital than ever. 
Connected creativity is the synchronization of strategic positioning, engaging creative, combined with the next generation of engagement planning to ensure ideas create the cut-through needed to deliver the strongest commercial performances. Today, creativity cannot be left to chance. One brand expression or big TV ad is simply not enough. 
More than ever, brands need to live in culture and our consumers worlds, allowing audiences to not only consume brands, but take part in owning, creating and amplifying them. To do this, the role of influencers, publishers, the news and bought media are inseparable from each other and the expression of the idea itself. To create such work, the classic disciplines of the marketing mix – advertising, experience, PR, CRM, media, digital – must all be unified, removing P&Ls, biases and incumbency to reveal a new breed of agnostic agency, resulting in connected creativity. 
At CHE Proximity, we see this as the shift from brand as advertising to brand as experience. It is as profound a change in advertising as the printing press was to the democratisation of information. We are investing our every effort into leading this transformation and in doing so, supporting the sustainability of our cherished industry as an essential ingredient of modern commerce. 
This is what we call Connected Creativity.
We are looking for the new breed of Senior Copywriter
The standout Senior Copywriter creates and executes ideas to deliver effective, engaging creative campaigns, as judged by the Creative Directors, Clients, category and the wider industry. 
As a Copywriter you are responsible for creation and execution of advertising concepts. 
Key to producing effective, great work will be:
The ability to be inspired and to inspire
The ability to understand creative briefs and strategic objectives of your clients
The ability to talk persuasively and compelling about creative work
Champion the creative point of view and product
Specific Responsibilities
Knowledge
You will need to demonstrate excellent knowledge of the industry, in particular around marketing and communication concepts and their execution.
You will also need an excellent understanding of what makes for standout creative work and the ability to engage and demonstrate your ideas effectively.
You will also need to develop knowledge of your clients' business and the role of creative in achieving their objectives.
Processes
As the Senior Copywriter you will be responsible with your Art Director for creating and producing excellent campaigns that are flawlessly executed.
In particular this will include:
Developing and producing campaigns: TV, radio, digital, press, magazine, posters, outdoor billboards, brochures, direct mail pieces, audio-visuals, jingle lyrics, etc
Adhere to creative briefs, budgets and timings
Attend all necessary agency and client meetings
Proofing and checking copy
Creative supervision of all production
Session supervision, directing talent, checking sound effect, music selection, mix etc
Talent selection with Art Director - casting, briefing for set construction, props, wardrobe, food styling, etc
Supervision of projects in progress through to final completion.
Meetings
As part of your role as Senior Copywriter, you will be required to participate and at times lead both internal and external client meetings.
This will include:
Leadership – you will be expected to contribute to key creative meetings with clients, ensuring the creative view is well presented with adequate support and evidence.
Presentation of work – you will be required to play an active role, along with Creative Directors, GAD, Planner in the presentation of creative and strategic work. This will include contributing to the development and delivery of persuasive presentations.
Relationships
You will be required to develop strong relationships within the agency and with clients founded on a culture of honesty, respect and reliability.
Clients – you will be required to develop strong client relationships. This will be a genuine partnership founded on an understanding of the client business, marrying it with the agency agenda resulting in a fruitful and positive relationship where great ideas can flourish.
Internal Stakeholders – key relationships will be with Creative Directors, Account Management, Planners and Production, with whom you will need to work in partnership with to develop creative responses to client briefs. In addition you will need strong relationships where you will need to command the wider team's respect and trust.
Key Performance Indicators (KPI's)
Creativity
Creation and delivery of outstanding market-leading creative work for clients judged internally, by category and by the industry.
Leadership
Proactive approach to projects and ability to work on your own initiative.
Financials
Financial acumen and responsible practices in the production of work.
Client Relationships
Client satisfaction appraisal scores
Positive 360° feedback from clients
Productive and efficient integration through campaigns.
Internal Relationships
Positive 360° feedback
Performance versus SMART goals set out in annual assessment.
Agency Contribution
Perceived by the broader agency as a contributor to the culture through 360° feedback and being involved in developing and maintaining the culture of the agency.
Some recent highlights
In addition to growing our business with high profile and forward-thinking clients our creativity and effectiveness has been recognised by our peers.
Adobe Innovation Award 2018: Data-Driven Marketing Implementation & Multi-Solution Implementation
Contagious Pioneers 2019: placed 5th
The Drum's Big Won Report 2018: 9th Most Creative Agency in the World
Tangrams 2018: Asia Effectiveness Agency of the Year
Australian Effie Awards 2018: Agency of the Year, 1 Gold, 5 Silver
Mumbrella 2018: Full Service & Media Agency of the Year, Media Campaign of the Year
Adnews 2018: Australian, Victorian & Customer Experience Agency of the Year
Cannes Lions 2018: 1 Gold, 5 Silver, 4 Bronze & 18 Finalists
B&T 2018: Media Agency & Marketing Consultancy of the Year
The One Club's ADC 2018: Australian Agency of the Year
Caples 2018: Best in Show, 6 Gold, 9 Silver & 4 Bronze
AFR Most Innovative Companies 2018: #4 in Australia and Best Marketing Innovation
The Clemenger Group supports an inclusive workplace and welcomes applicants from diverse backgrounds.
To gain an insight as to what it is like to work at CHE Proximity please click on the people story below: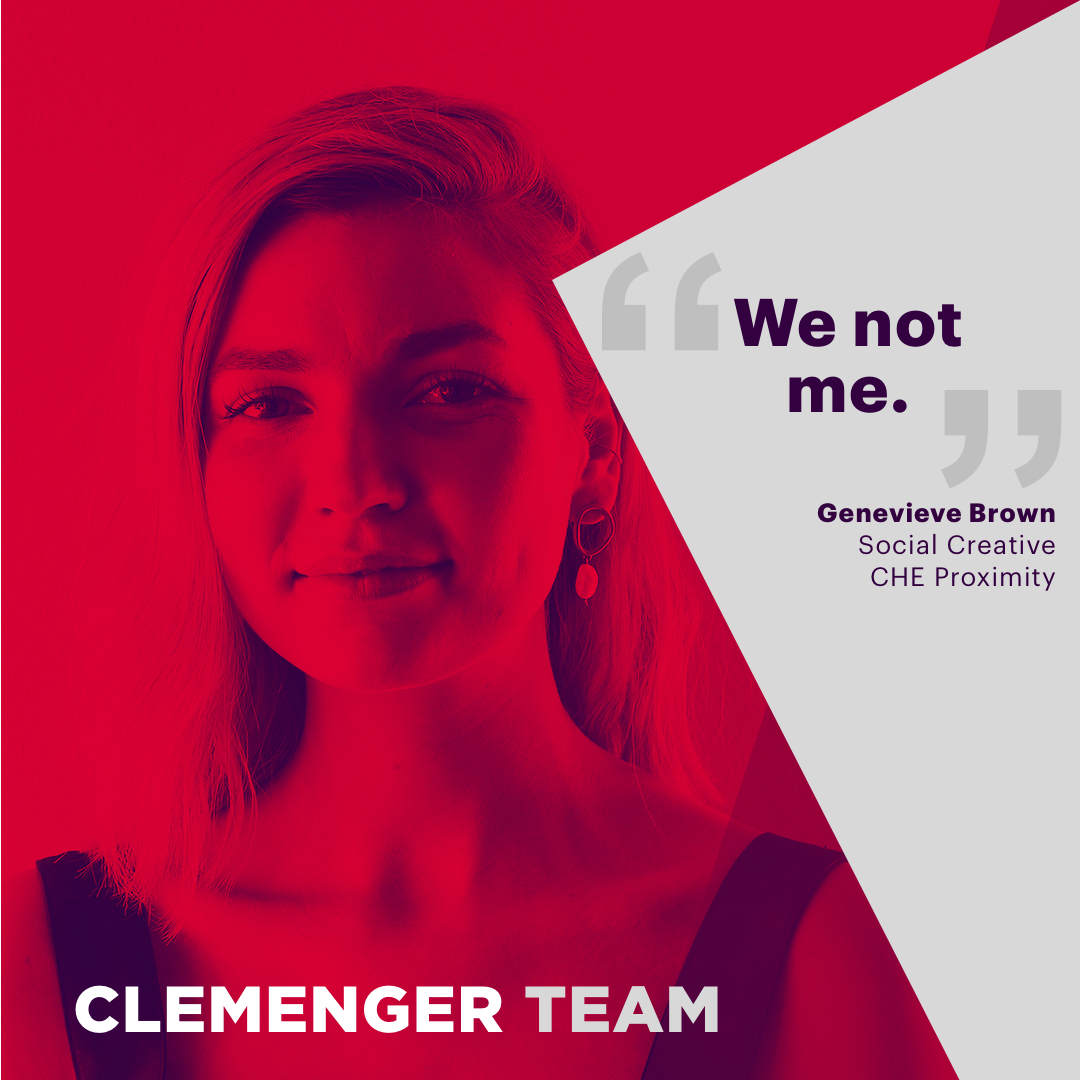 Get notified for similar jobs
You'll receive updates once a week