Social Creative
CHE Proximity | Melbourne-VIC

Job Reference:
CLM/1441716
| | |
| --- | --- |
| Category: | Social/Content |
| Position Type: | Full Time |
| Attachments: | No File Attached |
| Share This: | |
CHE Proximity is looking for a new breed of Social Creative
Social used to be about knowing what good customer service looks like. Now it's about standing out. To deliver creative work that cuts through, we need to understand what else is in peoples' newsfeeds and make things that are as (or more) interesting. In the world of social, we're competing against everything, so we need someone with the ability to understand the broader cultural forces and contribute something of value into people's lives, while also delivering a brand message.
A Day in the Life
Establish and maintain CHEP's social processes, integrating your thinking with the creative and experience teams to create best in class social media content and operations.
Social creative ideation, creation and implementation
Adding social creative to broader advertising campaigns
Implementation of social strategy and paid implementation
Community management
Applying intrinsic knowledge of social platforms to solve problems
Liaising with account service to communicate problems and escalate to clients
Maintain close and productive relationships members of CHEP, creative teams, experience, strategy and account service.
How will we know you are the one?
We are looking for someone who can own social across our Coles Liquor clients. They will be adept at understanding the subtle differences in creative approach and switching tones of the brands, and be able to generate unique, distinct ideas for each.
Capabilities
Organised and strategic creative thinker with an art focus
Adaptable creative thinker and executor
Good collaborator that makes the work better
Knowledge of tools: Facebook Ads Manager, Instagram scheduling platforms (like Schedugram, Planoly), Nuvi, native platforms
Other things that would make you kick arse in this role
The desire to immerse yourself in the entire agency's capability
An enthusiasm to test new approaches and learn quickly
Empathy and being a 'people person' able to foster collaboration between departments
Strong problem solving skills
An interest in future technologies and their applications in social
Who is CHE Proximity
More than ever before the medium, the message and it's sequencing are inseparable from each other.
'Unlike any time in history, connecting the medium, the message, and its sequencing to the consumer is more vital than ever.
Connected creativity is the synchronization of strategic positioning, engaging creative, combined with the next generation of engagement planning to ensure ideas create the cut-through needed to deliver the strongest commercial performances. Today, creativity cannot be left to chance. One brand expression or big TV ad is simply not enough.
More than ever, brands need to live in culture and our consumers worlds, allowing audiences to not only consume brands, but take part in owning, creating and amplifying them. To do this, the role of influencers, publishers, the news and bought media are inseparable from each other and the expression of the idea itself. To create such work, the classic disciplines of the marketing mix – advertising, experience, PR, CRM, media, digital – must all be unified, removing P&Ls, biases and incumbency to reveal a new breed of agnostic agency, resulting in connected creativity.
At CHE Proximity, we see this as the shift from brand as advertising to brand as experience. It is as profound a change in advertising as the printing press was to the democratisation of information. We are investing our every effort into leading this transformation and in doing so, supporting the sustainability of our cherished industry as an essential ingredient of modern commerce.
This is what we call Connected Creativity.
Some recent highlights
In addition to growing our business with high profile and forward-thinking clients our creativity and effectiveness has been recognised by our peers:
B&T 2019: VIC & Direct Response/Performance Agency of the Year
London International Awards 2019: APAC Agency of the Year
Tangrams: Asia Effectiveness Agency of the Year 2018, 2019
AFR Most Innovative Companies 2019: Best Marketing Innovation 2017, 2018, 2019
Mumbrella 2019: Creative Agency of the Year, Award for Data Driven Marketing
WARC 2019: Most Effective Agency, Australia and New Zealand
WARC: Most Effective Australian Agency 2014   2019
Cannes 2019: 2 Silver, 2 Bronze & 7 Finalists
Contagious Pioneers 2019: placed 5th
The Drum's Big Won Report 2018: 9th Most Creative Agency in the World
Australian Effie Awards 2018: Agency of the Year
Adnews 2018: Australian, Victorian & Customer Experience Agency of the Year
Adobe Innovation Award 2018: Data-Driven Marketing Implementation & Multi-Solution Implementation
The Clemenger Group supports an inclusive workplace and welcomes applicants from diverse backgrounds.
To gain an insight as to what it is like to work at CHE Proximity please click on the people story below: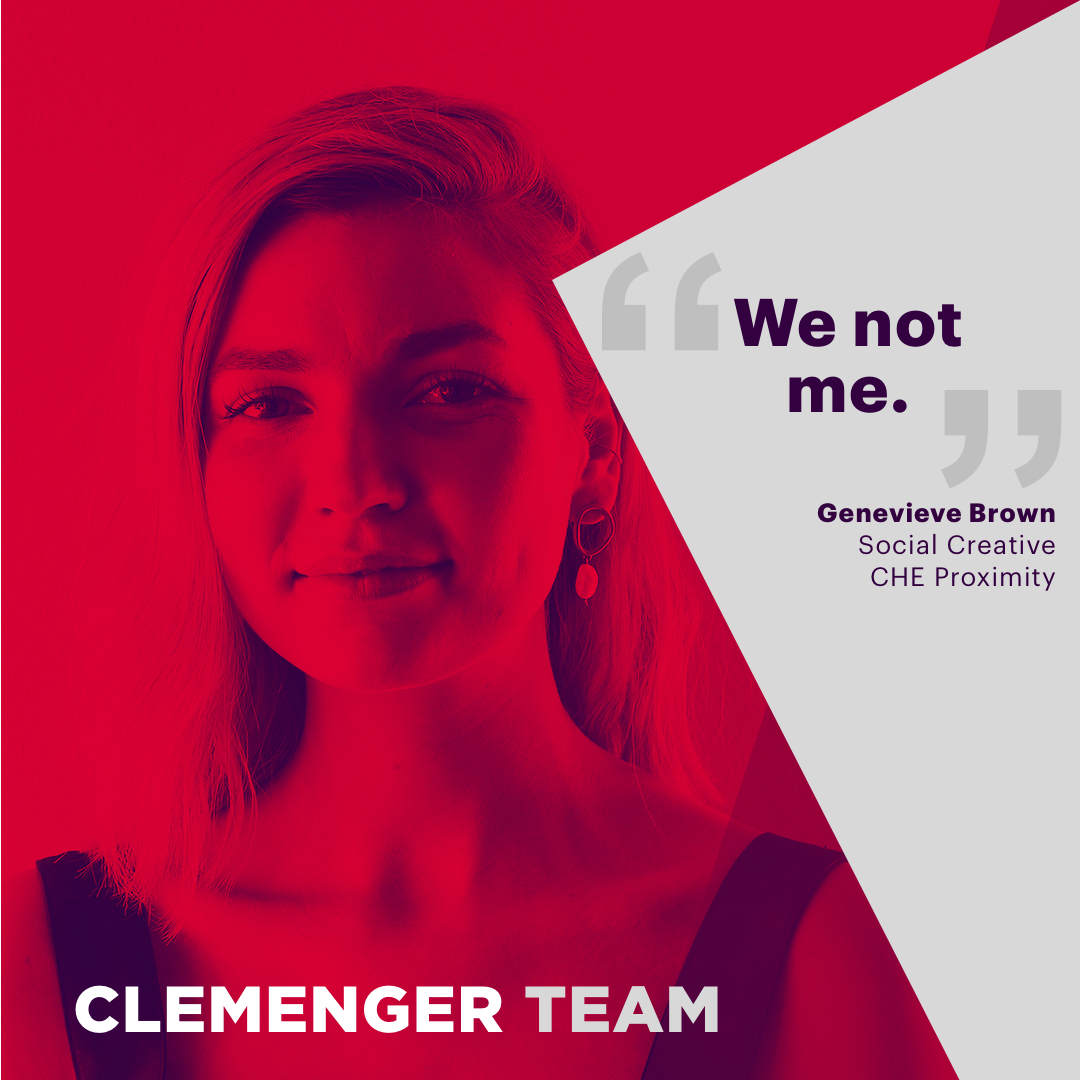 Get notified for similar jobs
You'll receive updates once a week