Senior UX Designer
CHE Proximity | Melbourne-VIC

Job Reference:
CLM/1389489A
| | |
| --- | --- |
| Category: | Digital Creative/Design |
| Position Type: | Full Time |
| Attachments: | No File Attached |
| Share This: | |
More than ever before the medium, the message and it's sequencing are inseparable from each other
'Unlike any time in history, connecting the medium, the message, and its sequencing to the consumer is more vital than ever.
Connected creativity is the synchronization of strategic positioning, engaging creative, combined with the next generation of engagement planning to ensure ideas create the cut-through needed to deliver the strongest commercial performances. Today, creativity cannot be left to chance. One brand expression or big TV ad is simply not enough.
More than ever, brands need to live in culture and our consumers worlds, allowing audiences to not only consume brands, but take part in owning, creating and amplifying them. To do this, the role of influencers, publishers, the news and bought media are inseparable from each other and the expression of the idea itself. To create such work, the classic disciplines of the marketing mix – advertising, experience, PR, CRM, media, digital – must all be unified, removing P&Ls, biases and incumbency to reveal a new breed of agnostic agency, resulting in connected creativity.
At CHE Proximity, we see this as the shift from brand as advertising to brand as experience. It is as profound a change in advertising as the printing press was to the democratisation of information. We are investing our every effort into leading this transformation and in doing so, supporting the sustainability of our cherished industry as an essential ingredient of modern commerce.
This is what we call Connected Creativity.
That's why we are looking for the new breed of UX Designer
Due to recent wins we're on the hunt for a UX Designer to help support and grow our Strategic Design practice in Sydney. You'll be joining an internationally recognised and fully integrated creative and digital agency where you'll get to build world leading digital products, services and experiences for some of Australia's highest profile energy, financial services, not for profit, automotive and retail brands.
We're after someone with experience working across the full gamut of UX research, strategy and design – along with the soft skills required to articulate your process and thinking clearly and work closely alongside client stakeholders.
Requirements
3+ years of UX design experience working within a multi-disciplinary digital environment (user research, creating user stories, process flows, storyboards, wireframes, prototypes, usability testing etc.)
The ability to design and deliver research and user testing activities across the full scope of a project
Experience working across mobile and web-based platforms with VX experience a plus
Sound knowledge of interaction design and component-based design systems
Engaging presentation style, strong communication and interpersonal skills with a willingness represent the voice of the user across the duration of a project
A portfolio of past projects that demonstrates an ability to solve complex design challenges across a range of platforms and devices.
Skilled in design tools (Sketch, Invision, Adobe Creative Suite, Axure etc.)
A day in the life
Design strategy / On the tools (85%)
Owning the delivery of UX related outputs across the duration of a project – from initial discovery research and synthesis, user testing and ultimately working closely with our in-house dev team to bring your designs to life.
Collaborating closely with other design, CX, content, data science, tech and research specialists from across the agency to enrich the quality of your work and the benefit it brings to users.
Designing solutions that have accessibility and inclusivity requirements at their core and being able to display a deep empathy for the people using the products and services you design.
Contributing to (and eventually leading) the design and delivery of workshops, design sprints and other forms of agency/client/customer collaboration and co-design.
Being willing and able to apply your design skills to a variety of channels and contexts such as apps, websites, ecommerce, chat-bots and voice
Supporting Snr UX designers, producers and department heads on large scale digital transformation projects
Getting involved in pitches and working closely with creative teams on conceptual designs and experiences.
Advocacy / leadership (15%)
Stay on top of the latest developments, trends and thinking from across the industry and share widely with the agency and across your networks
Contribute to the ongoing development and improvement of tools and techniques to improve the way we work together as a team
Be a vocal champion for design (in all its forms) and contribute to internal CHEP Uni sessions where you'll share your skills and experience with colleagues.
How we will know you are the one?
Experience in another field – whether it's visual design or in a completely unrelated field we're interested in how your past experience can augment your UX skill set.
An ambition to develop and grow quickly within a fast paced and 'opportunity-rich' working environment. (Previous agency/consulting experience a bonus but not a pre-requisite)
Previous UX experience working across a range of industries including retail, financial services, automotive and ecommerce
Being a storyteller – A critical element of all our roles is to deliver insights about people and behaviour – verbally and visually – in a way that generates empathy, emotion, and engagement from the client and design team.
Some recent highlights
In addition to growing our business with high profile and forward-thinking clients our creativity and effectiveness has been recognised by our peers.
Adobe Innovation Award 2018: Data-Driven Marketing Implementation & Multi-Solution Implementation
Contagious Pioneers 2019: placed 5th
The Drum's Big Won Report 2018: 9th Most Creative Agency in the World
Tangrams 2018: Asia Effectiveness Agency of the Year
Australian Effie Awards 2018: Agency of the Year, 1 Gold, 5 Silver
Mumbrella 2018: Full Service & Media Agency of the Year, Media Campaign of the Year
Adnews 2018: Australian, Victorian & Customer Experience Agency of the Year
Cannes Lions 2018: 1 Gold, 5 Silver, 4 Bronze & 18 Finalists
B&T 2018: Media Agency & Marketing Consultancy of the Year
The One Club's ADC 2018: Australian Agency of the Year
Caples 2018: Best in Show, 6 Gold, 9 Silver & 4 Bronze
AFR Most Innovative Companies 2018: #4 in Australia and Best Marketing Innovation
The Clemenger Group supports an inclusive workplace and welcomes applicants from diverse backgrounds.
To gain an insight as to what it is like to work at CHE Proximity please click on the people story below: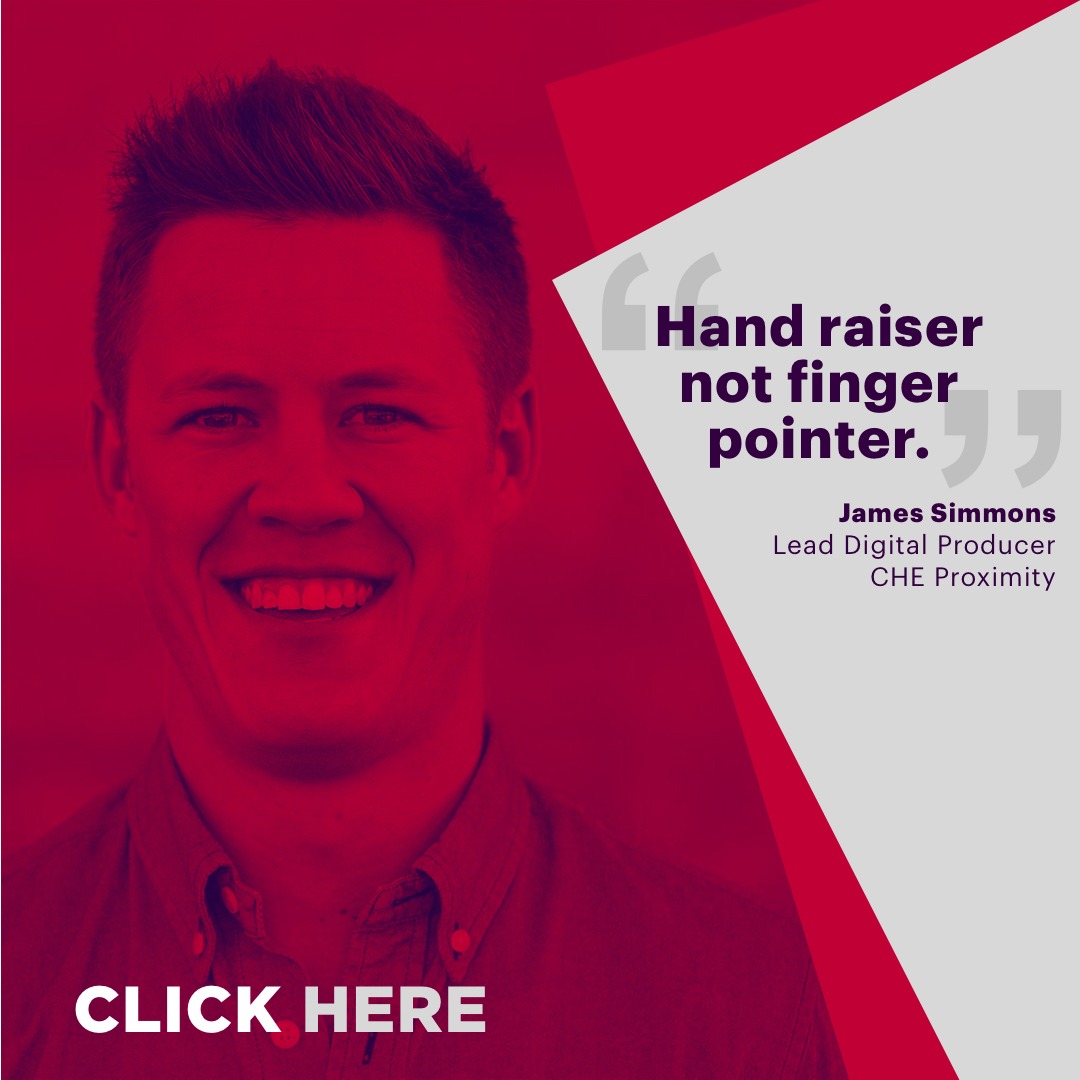 Get notified for similar jobs
You'll receive updates once a week