Senior Copywriter
CHE Proximity | Sydney-NSW

Job Reference:
CLM/1395809
| | |
| --- | --- |
| Category: | Copywriter |
| Position Type: | Full Time |
| Attachments: | No File Attached |
| Share This: | |
WHO IS co:lab?
A partnership between CHE Proximity and one of our leading clients, where we offer an internal centre of creative excellence across all marketing and customer touchpoints on all platforms. This role will sit onsite with the client.
co:lab is:
• Designing, writing, developing, analysing and editing
• Making stuff. Good stuff.
• Keeping the pixels sharp and the experience clean
• Smart, organized, efficient and effective
• On-brand and on-strategy
• Integrated seamlessly with all departments with strong process, workflow and trusted creative output
• Innovative in all things customer and engagement for an easier & more beautiful customer experience
• Executive presentation design
THAT'S WHY WE ARE LOOKING FOR THE NEW BREED OF SENIOR COPYWRITER
A proven track record as a copywriter, with a deep understanding of the ways copy helps clients achieve their aims, and the ability to generate immaculate copy for every brief.
Comfortable and confident in their writing, and willing to help less senior members of staff to improve their copy skills, senior copywriters are leading figures in a creative team and are always ready to rise to any challenging brief with a keen eye for detail, and a drive to deliver the sharpest, most dazzling copy.
This role requires complete self-assurance, as the senior copywriter is in charge of influencing consumers by delivering a clear message, as well as using their initiative to seek out new trends and incorporate them into campaigns effectively.
Working alongside developers and designers, you must be a keen team player and self sufficient multi-tasker, full of original approaches and innovative ideas.
A DAY IN THE LIFE
As a Senior copywriter at co:lab you'll be able to shape, influence and be responsible for:
Taking ownership of copy briefs and answer them to a very high standard
Developing creative strategies that are forward-thinking and in-line with current media trends
Demonstrating a clear understanding of campaign objectives and devise strategies to achieve them
Checking all copy that is generated by team members and offer feedback when necessary
Managing multiple projects, with the ability to switch from one to the other seamlessly
Meeting deadlines and stay within budget constraints
Pushing clients towards fresh, exciting ideas
Liaising with clients
HOW WILL WE KNOW YOU ARE THE ONE?
Technical capabilities
Significant experience in professional, commercial writing
A strong record in creating immaculate copy that stands out from the crowd
The ability to plan and strategise high-profile projects
A persuasive and confident approach to creativity
Excellent communication skills
Effective team management capabilities
A keen attention to detail and timescales
Familiarity with creative processes and techniques
Confidence in building a rapport with clients and nurturing good working relationships
Some recent highlights
In addition to growing our business with high profile and forward-thinking clients our creativity and effectiveness has been recognised by our peers.
Adobe Innovation Award 2018: Data-Driven Marketing Implementation & Multi-Solution Implementation
Contagious Pioneers 2019: placed 5th
The Drum's Big Won Report 2018: 9th Most Creative Agency in the World
Tangrams 2018: Asia Effectiveness Agency of the Year
Australian Effie Awards 2018: Agency of the Year, 1 Gold, 5 Silver
Mumbrella 2018: Full Service & Media Agency of the Year, Media Campaign of the Year
Adnews 2018: Australian, Victorian & Customer Experience Agency of the Year
Cannes Lions 2018: 1 Gold, 5 Silver, 4 Bronze & 18 Finalists
B&T 2018: Media Agency & Marketing Consultancy of the Year
The One Club's ADC 2018: Australian Agency of the Year
Caples 2018: Best in Show, 6 Gold, 9 Silver & 4 Bronze
AFR Most Innovative Companies 2018: #4 in Australia and Best Marketing Innovation
The Clemenger Group supports an inclusive workplace and welcomes applicants from diverse backgrounds.
To gain an insight as to what it is like to work at CHE Proximity please click on the people story below: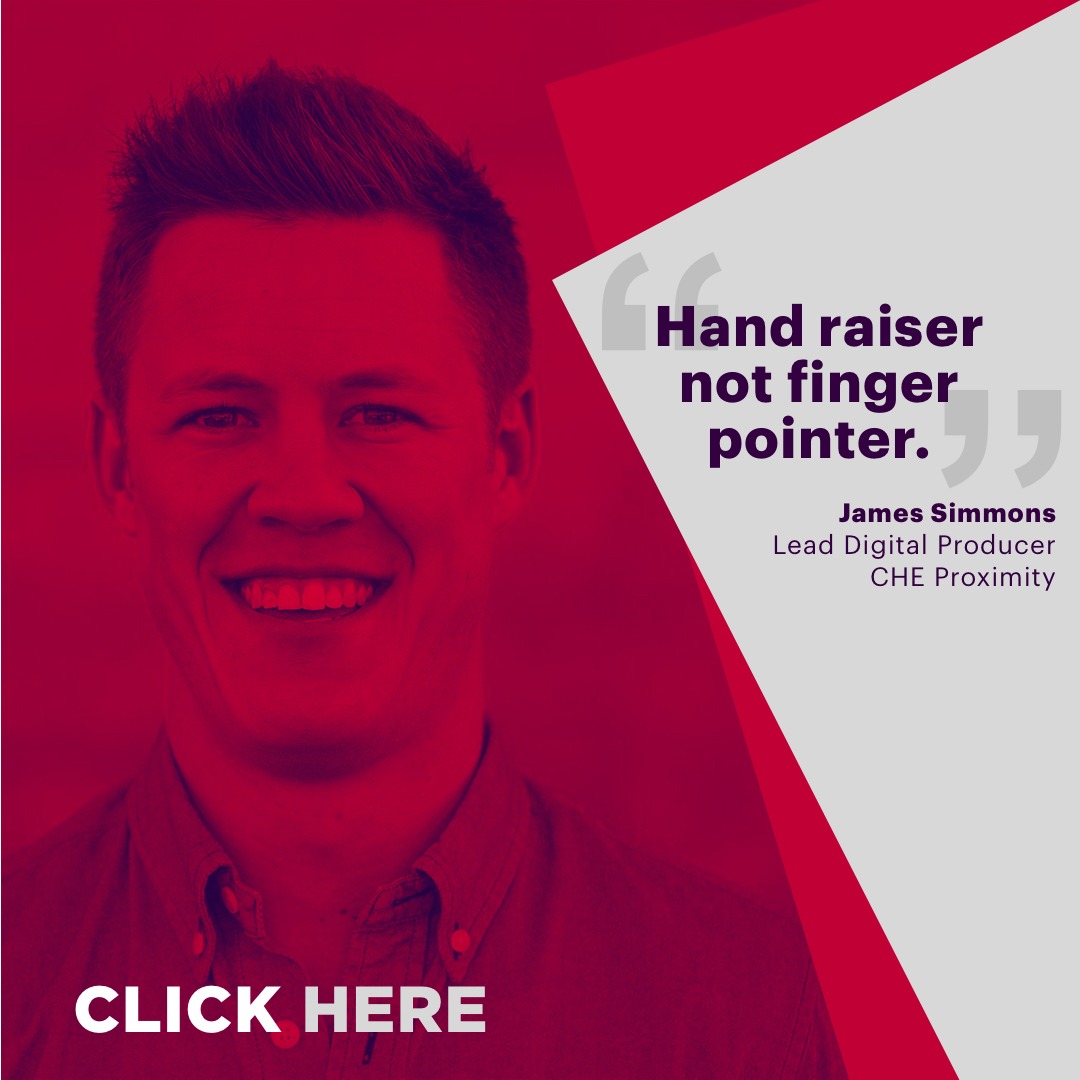 Get notified for similar jobs
You'll receive updates once a week