Head of Marketing Cloud Services
CHE Proximity | Sydney-NSW

Job Reference:
CLM/1397721
| | |
| --- | --- |
| Category: | Strategy/Planning |
| Position Type: | Full Time |
| Attachments: | No File Attached |
| Share This: | |
MORE THAN EVER BEFORE THE MEDIUM, THE MESSAGE AND IT'S SEQUENCING ARE INSEPARABLE FROM EACH OTHER.
Unlike any time in history, connecting the medium, the message, and its sequencing to the consumer is more vital than ever.
Connected creativity is the synchronization of strategic positioning, engaging creative, combined with the next generation of engagement planning to ensure ideas create the cut-through needed to deliver the strongest commercial performances. Today, creativity cannot be left to chance. One brand expression or big TV ad is simply not enough.
More than ever, brands need to live in culture and our consumers worlds, allowing audiences to not only consume brands, but take part in owning, creating and amplifying them. To do this, the role of influencers, publishers, the news and bought media are inseparable from each other and the expression of the idea itself. To create such work, the classic disciplines of the marketing mix – advertising, experience, PR, CRM, media, digital – must all be unified, removing P&Ls, biases and incumbency to reveal a new breed of agnostic agency, resulting in connected creativity.
At CHE Proximity, we see this as the shift from brand as advertising to brand as experience. It is as profound a change in advertising as the printing press was to the democratisation of information. We are investing our every effort into leading this transformation and in doing so, supporting the sustainability of our cherished industry as an essential ingredient of modern commerce.
This is what we call Connected Creativity.
THAT'S WHY WE ARE LOOKING FOR A PASSIONATE HEAD OF MARKETING CLOUD SERVICES

To help conceive, strategise and project manage the implementation of the data and technology smarts that help our clients deliver more intelligent, more personalised and more targetted customer experiences. 
The key focus for the role initially will be to consult through and help lead the delivery of the future state Samsung Digital Experience, particularly as it relates to their MarTech and AdTech solutions.  This will involve working through the implications across their tech stack (which includes SAP Hybris, Adobe Audience Manager, Google Marketing Platform, GA360, Lexer) and organising the necessary technical and strategic resources and work streams to execute these.
Samsung is a significant Digital project with a heavy tech focus that will likely become one of Clemengers key accounts.  Once the Samsung projects are properly established and resourced, the role will quickly expand to other clients across CHEP Sydney and then potentially further across CHE Proximity nationally and potentially to the Clemenger Group's wider client base across AU/NZ.
The role will involve building C-suite level relationships across a very large and complex business to help bridge collaboration between teams and ensure that data, marketing and technology functions are all aligned to the future state vision and implications for their functions.
WHAT THE JOB ENTAILS
The Head of Marketing Cloud Services plays a hybrid strategic consulting and project leadership role for complex data, tech and CX projects.  The key requirements of the role include:
Project management – Being the gateway for the client in to the agency, the orchestrator and resource manager for all internal and external resources (where appropriate) in the delivery of complex creative, technology, CX and data projects.  Whilst there will be digital project managers involved, for more complex MarTech / AdTech projects, the expectation of this role will be to define the project stages and resource requirements to enable the digital project manager to have a clear framework to work against.
Setting technology visions and implementation road maps – Leading and managing vision workshops for clients to identify opportunities for technology to add value to their businesses.  Selling these solutions in to C-Suite executives to build pipeline for CHEP and also keep pushing our client brands forwards as leaders in CX and innovation.  This would generally involve discussion around new platform approaches, new data-driven marketing approaches and new AdTech/MarTech solutions.
Setting up Marketing Automation programmes – Helping clients set up the right team structures, solution architectures, data models and implementation programmes around their marketing automation solutions i.e. Adobe Campaign / Eloqua / Salesforce.  Working in parallel with key clients to bring in the right tech resources to help organize relevant data connections in/out to drive decisioning, consulting to the Experience team on the viability of different use cases,
Setting up data layer / DMP / SCV solutions – Helping clients establish the smarts that drive their personalisation and targetting strategies across paid and owned platforms through the integration of AdTech, data and MarTech solutions i.e. Tealium, Adobe Target, Adobe Audience Manager.
Writing proposals that drive new business outcomes – Working with teams of Account Managers, Project Managers and Engineers to write clear proposals for clients that clearly map out the required technology solutions, the business benefits, project approach, costs and timings involved in making these investments.
Collaboration – Working with developer teams, digital designers, account services, UX, strategic and creative resources to help nurture projects through the implementation phase to ensure the original benefits are realized and the scope aligns to the project goals.
Supporting the creative process – Working with the Creative Director to shape ideas and campaigns in to viable and commercial solutions from a technology and data perspective.
Researching platform capability / training – Working with the Chief Technology Officer to ensure that the agency and client-base remains abreast of the latest platform, AdTech and MarTech innovations.  Attending conferences and presenting back findings and actionable plans for continued growth.
Building relationships – Building relationships with key software vendors and installation partners to ensure that the agency always delivers the best result for the client base.  Building relationships with C-suite execs to help secure the right levels of sponsorship and unlock new programmes of work.
THE RIGHT PERSON WILL HAVE PREVIOUS EXPERIENCE IN…
Working in a mid to large digital agency or consulting environment for 10 years+
Working in a range of agile and waterfall project approaches
Leading and managing stakeholder workshops incorporating a mix of senior business leaders, technical experts and innovative creative thinkers
Collaborating with a range of technical specialists (i.e. UX, Developers, Designers, Solution Architects, IT Managers and Digital Producers)
Working on complex CMS website projects
Working on complex mobile application development projects
Working with enterprise CRM products i.e. Salesforce, Microsoft Dynamics for marketing cloud integration purposes
Working with a range of leading CMS products i.e. Adobe Experience Manager and Sitecore
Marketing Cloud product suites i.e. Adobe Marketing Cloud, Oracle Marketing Cloud, Salesforce Marketing Cloud
A TYPICAL DAY MIGHT INCLUDE
Attending a project WiP meeting led by a Digital Producer to talk through a project status and provide input on integration of marketing technology within the proposed solution
Meeting with an AdTech provider to talk about how we could partner with their technology to improve cost of acquisition in their media buying approach
Running a workshop with a Digital Marketing Manager client and their team to define the requirements and strategy for a DMP set-up
Presenting findings back to the agency from a technology conference that you recently attended
Researching case studies for a new business opportunity to help sell in a new technology solution
Working on a project approach for to support a new business RFP for technology services
Some recent highlights
In addition to growing our business with high profile and forward-thinking clients our creativity and effectiveness has been recognised by our peers.
Adobe Innovation Award 2018: Data-Driven Marketing Implementation & Multi-Solution Implementation
Contagious Pioneers 2019: placed 5th
The Drum's Big Won Report 2018: 9th Most Creative Agency in the World
Tangrams 2018: Asia Effectiveness Agency of the Year
Australian Effie Awards 2018: Agency of the Year, 1 Gold, 5 Silver
Mumbrella 2018: Full Service & Media Agency of the Year, Media Campaign of the Year
Adnews 2018: Australian, Victorian & Customer Experience Agency of the Year
Cannes Lions 2018: 1 Gold, 5 Silver, 4 Bronze & 18 Finalists
B&T 2018: Media Agency & Marketing Consultancy of the Year
The One Club's ADC 2018: Australian Agency of the Year
Caples 2018: Best in Show, 6 Gold, 9 Silver & 4 Bronze
AFR Most Innovative Companies 2018: #4 in Australia and Best Marketing Innovation
The Clemenger Group supports an inclusive workplace and welcomes applicants from diverse backgrounds.
To gain an insight as to what it is like to work at CHE Proximity please click on the people story below: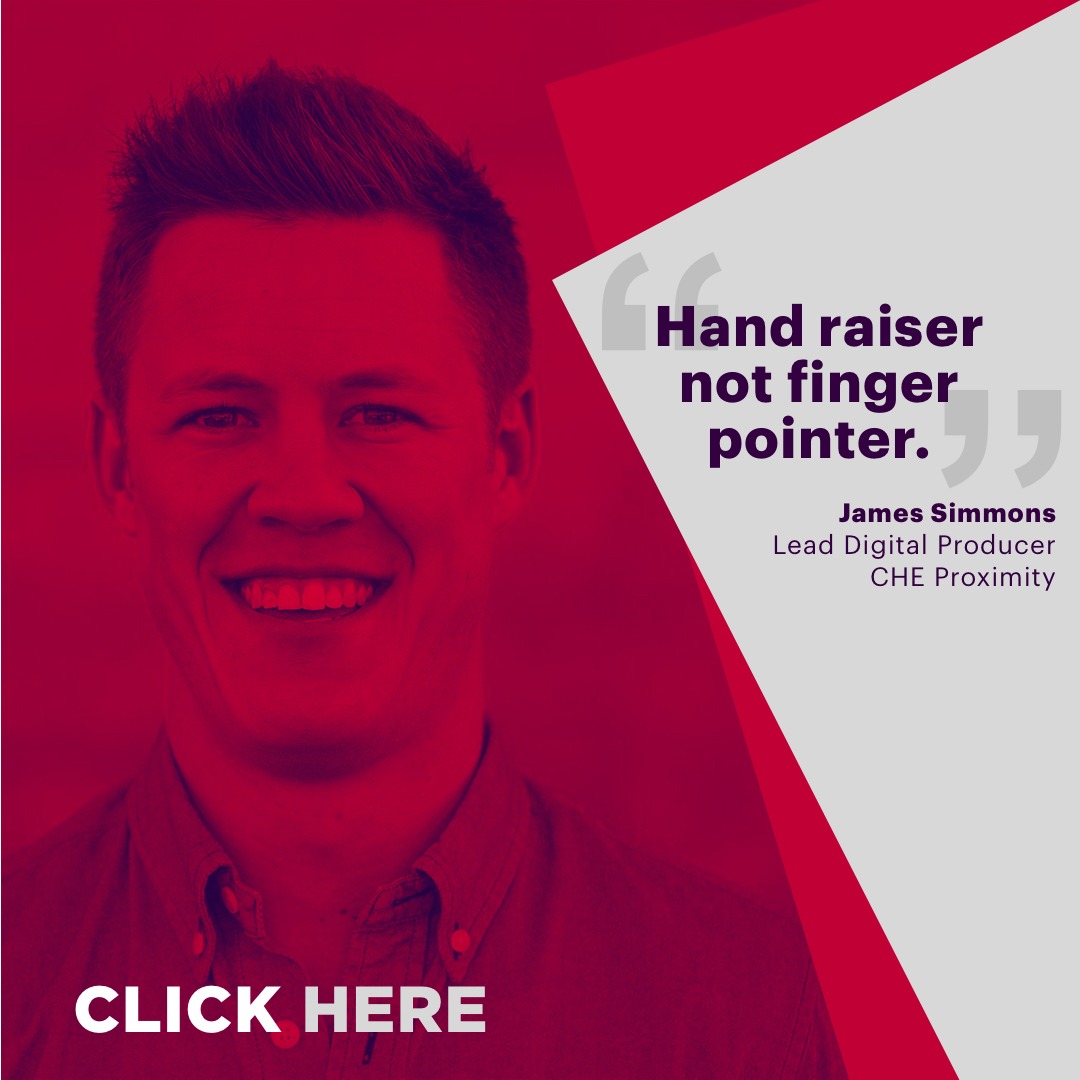 Get notified for similar jobs
You'll receive updates once a week