Planning Director, CX
CHE Proximity | Sydney-NSW

Job Reference:
CLM/1400719
| | |
| --- | --- |
| Category: | Strategy/Planning |
| Position Type: | Full Time |
| Attachments: | No File Attached |
| Share This: | |
CHE Proximity is looking for a new breed of Planning Director, CX
A Planning Director that loves creativity and the opportunities new technologies provide. Change is something they thrive on and moving fast keeps it interesting for them.
They encourage innovative approaches to design techniques, unifying the design and strategy teams and enabling both to embrace different angles in approaching complex problems.
No task is too big; actually, the bigger the task the bigger the challenge. And there is nothing better than delivering what others thought was not possible. These are the projects they love the most.
Responsibilities
To be directly responsible for:
Collaborating with the Director of Experience, Account Service and relevant Client representatives to define Service Design project objectives and success metrics,
Defining the overarching CX strategies strategies, from approach to implementation leveraging Service Design principles and metholodolies.
Developing and delivering high quality presentations to communicate future state customer experience / service blueprints, any audit findings, opportunities for remediation and next steps with the Director of Experience, Client Partner and Client Executives,
Working with the Client Partner to manage cross-functional project teams (strategy, design, technology and data resources) to deliver top quality strategic and creative outputs
Engaging in client workshop facilitation, including design thinking activities,
Under the Director of Experience, day to day management of the Experience Planning team responsible for:

Auditing existing omnichannel service strategies, comms journeys, and frontstage and backstage interactions,
Identification of key areas for remediation and, in liaison with Data Scientists, calculation of the commercial opportunities available,
Working with research managers to define incisive research methodologies that uncover business and customer pain points,
In-depth evaluation (affinity mapping, thematic analysis) of business and customer pain points
Crafting a strategic vision for how customer experience insights and principles manifest themselves on digital properties and/or platforms,
Translating business, channel, and marketing objectives into integrated digital strategies,
Clear design of a 'future state' service maps to be executed across owned channels, to deliver the identified commercial opportunities,
Translation of 'future state' journey into actionable Business and User requirements, prioritised by Business case and technical feasibility,
Working with the client team, technology, data, UX and Account Service to deliver transformed experiences,
Contributing to the formal development of service design practice tools, methodologies and applications and inspire innovative approaches and techniques
Creating channel agnostic interface design solutions that solve real customer problems,
Working with other leaders to continuously identify spaces where service design as a discipline can add value,
Recognising the need for and producing additional business pitches,
Being highly accountable for design quality and project delivery.
Desired Skills and Experience 
General experience
Approx. 5 years' experience in a relevant CX strategy, CRM and service design discipline, with a focus on journey transformation strategy and delivery, preferably in a consultancy or internal client environment.
Core capabilities
In-depth knowledge and experience with the interrelated fields of customer experience  (UX, Service Design, digital transformation, ethnography etc),
The ability to infuse empathy with creativity to innovate across a wide variety of touchpoints,
A profound curiosity and passion for human-centred design, consumer attitudes and behavior and the implications for how we communicate,
A T-shaped approach to knowledge building and a thought leader regarding the latest business, digital and technology trends
The ability to respond positively and calmly to shifting priorities, demands and timelines,
Experience in auditing and documenting frontstage and backstage services,
Experience in interpreting data analysis to uncovering behavioral insights, creating actionable strategies and driving communications output,
Expertise in the field of human-centred design, across relevant domains of research, strategy and execution
Disciplined, evidence-based approach to problem solving with the ability to be both rigorously analytical as well as intuitive,
Experience with a plethora of ethnographic research techniques, from conducting to synthesis of data and producing research reports,
Experience with iterative prototyping techniques (paper prototypes, Axure, InVision),
A good understanding of high-level tech solutions, and how they can assist in optimising and implementing customer journeys, and enhancing customer experience,
A passionate networker who is enthusiastic about the communications industry,
Highly developed listening and communication skills in a client environment, and within the agency,
A natural leader who can build, foster and inspire strong teams,
Proficiency in the use of Omnigraffle and/or Visio.
Other things that would make you great in this role
An existing portfolio of thought leadership (e.g., past conference talks, publications, etc.)
Always positive, even in circumstances of extreme pressure,
Loves working with people and gets on with anyone,
Wants to do innovative work, that no one has done before,
Someone comfortable with change and has an ambition to change the way things are done,
The desire to look forward, review interesting trends both inside and outside the industry and contribute to the vision of the agency.
Who is CHE Proximity
More than ever before the medium, the message and it's sequencing are inseparable from each other.
'Unlike any time in history, connecting the medium, the message, and its sequencing to the consumer is more vital than ever.
Connected creativity is the synchronization of strategic positioning, engaging creative, combined with the next generation of engagement planning to ensure ideas create the cut-through needed to deliver the strongest commercial performances. Today, creativity cannot be left to chance. One brand expression or big TV ad is simply not enough.
More than ever, brands need to live in culture and our consumers worlds, allowing audiences to not only consume brands, but take part in owning, creating and amplifying them. To do this, the role of influencers, publishers, the news and bought media are inseparable from each other and the expression of the idea itself. To create such work, the classic disciplines of the marketing mix – advertising, experience, PR, CRM, media, digital – must all be unified, removing P&Ls, biases and incumbency to reveal a new breed of agnostic agency, resulting in connected creativity.
At CHE Proximity, we see this as the shift from brand as advertising to brand as experience. It is as profound a change in advertising as the printing press was to the democratisation of information. We are investing our every effort into leading this transformation and in doing so, supporting the sustainability of our cherished industry as an essential ingredient of modern commerce.
This is what we call Connected Creativity.
Some recent highlights
In addition to growing our business with high profile and forward-thinking clients our creativity and effectiveness has been recognised by our peers.
Adobe Innovation Award 2018: Data-Driven Marketing Implementation & Multi-Solution Implementation
Contagious Pioneers 2019: placed 5th
The Drum's Big Won Report 2018: 9th Most Creative Agency in the World
Tangrams 2018: Asia Effectiveness Agency of the Year
Australian Effie Awards 2018: Agency of the Year, 1 Gold, 5 Silver
Mumbrella 2018: Full Service & Media Agency of the Year, Media Campaign of the Year
Adnews 2018: Australian, Victorian & Customer Experience Agency of the Year
Cannes Lions 2018: 1 Gold, 5 Silver, 4 Bronze & 18 Finalists
B&T 2018: Media Agency & Marketing Consultancy of the Year
The One Club's ADC 2018: Australian Agency of the Year
Caples 2018: Best in Show, 6 Gold, 9 Silver & 4 Bronze
AFR Most Innovative Companies 2018: #4 in Australia and Best Marketing Innovation
The Clemenger Group supports an inclusive workplace and welcomes applicants from diverse backgrounds.
To gain an insight as to what it is like to work at CHE Proximity please click on the people story below: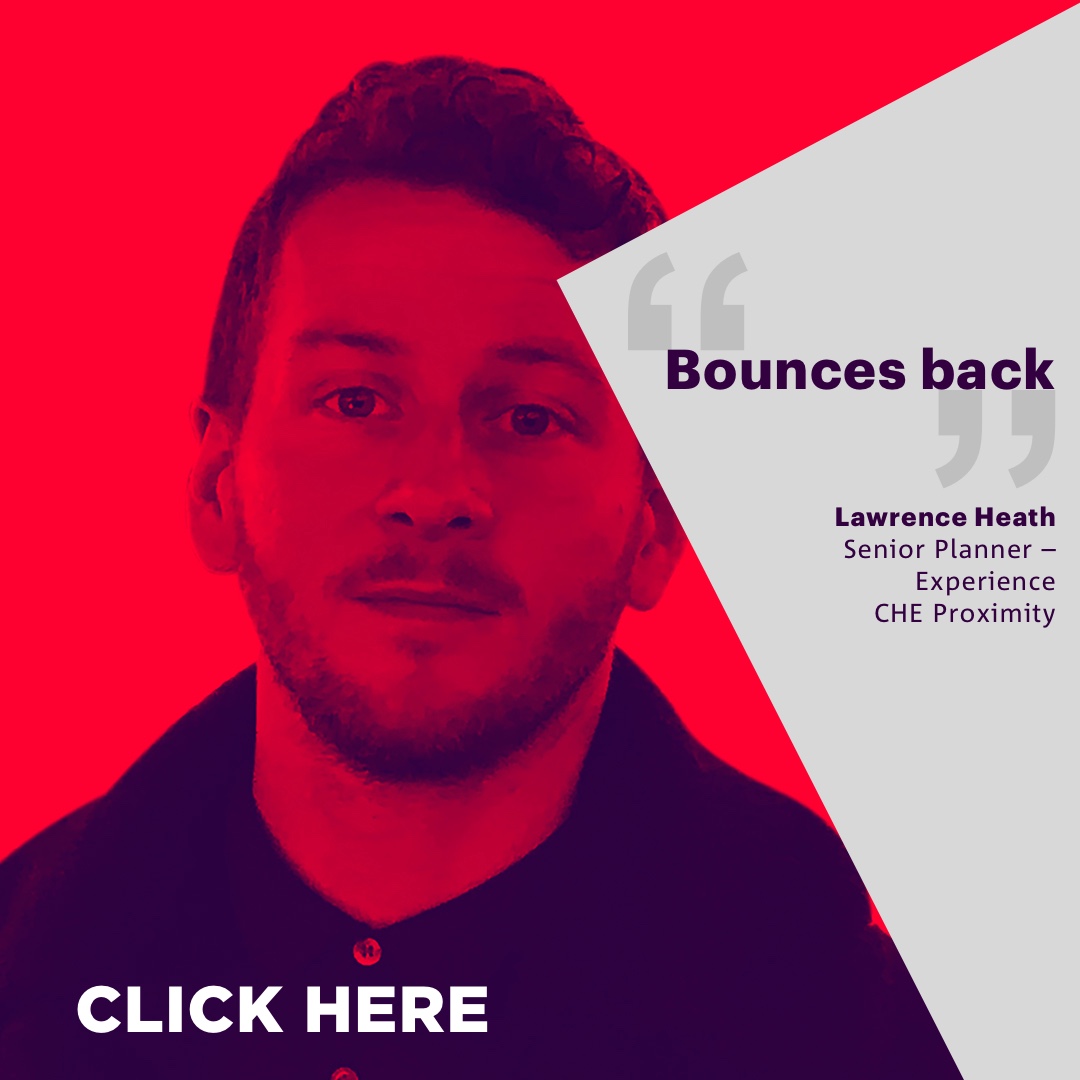 Get notified for similar jobs
You'll receive updates once a week