Data Scientist
CHE Proximity | Sydney-NSW

Job Reference:
CLM/1403720
| | |
| --- | --- |
| Category: | Strategy/Planning |
| Position Type: | Full Time |
| Attachments: | No File Attached |
| Share This: | |
More than ever before the medium, the message and it's sequencing are inseparable from each other
'Unlike any time in history, connecting the medium, the message, and its sequencing to the consumer is more vital than ever.
Connected creativity is the synchronization of strategic positioning, engaging creative, combined with the next generation of engagement planning to ensure ideas create the cut-through needed to deliver the strongest commercial performances. Today, creativity cannot be left to chance. One brand expression or big TV ad is simply not enough.
More than ever, brands need to live in culture and our consumers worlds, allowing audiences to not only consume brands, but take part in owning, creating and amplifying them. To do this, the role of influencers, publishers, the news and bought media are inseparable from each other and the expression of the idea itself. To create such work, the classic disciplines of the marketing mix – advertising, experience, PR, CRM, media, digital – must all be unified, removing P&Ls, biases and incumbency to reveal a new breed of agnostic agency, resulting in connected creativity.
At CHE Proximity, we see this as the shift from brand as advertising to brand as experience. It is as profound a change in advertising as the printing press was to the democratisation of information. We are investing our every effort into leading this transformation and in doing so, supporting the sustainability of our cherished industry as an essential ingredient of modern commerce.
This is what we call Connected Creativity.
That's why we are looking for the new breed of Data Scientist
Data is pivotal to everything done by CHEP and consequently the Marketing Sciences consultancy offering has been, and continues to be, pivotal to CHEP's ongoing success and is a critical enabler of our Connected Creativity philosophy.
Marketing Sciences offer the ability to manipulate and interpret a business' most valuable asset to inform business transforming strategies. Add to this the increasingly complex technology environments clients are required to work with (both in their owned environment and the wider media landscape), strategic, analytical and technological minds are required to help navigate and get use from them.
We are looking for a person who can:
Contribute to the evolution of an analytical practice that is unrivalled in market - across operations and process, thinking and strategy, service and client engagement, delivery and execution and yield and profitability, and that is purpose built for the future needs of large corporations.
Use all aspects of data to unlock customer understanding that others can't get close to
Talk with passion, intelligence and fluency about the use of data and analysis to aid business transformation
Work brilliantly with all teams around the agency, adapting to the communication preferences of those teams to ensure data is central to how we conceive, assess and produce.
Work brilliantly with clients to win their trust
Leverage relationships within the industry to further our ambition.
Generate and lead operation strategies to grow the practice sustainably in key areas - revenue, yield/margin, NPS.
A day in the life:
Designing and building complex and often large data sets from a variety of sources.
Thinking strategically about uses of data and the interaction with customer experience.
Designing and implementing statistical data quality procedures around new data sources.
Performing data studies and data discovery around new data sources or new uses for existing data sources.
Implementing any software required for accessing and handling data appropriately.
Implementing and handing over data checking and updating procedures.
Performing statistical analysis (from basic significance testing to complex data modelling) with existing data sets.
Being a leading voice in the development and advocate of machine learning and AI.
Visualising and reporting data findings creatively in a variety of formats.
Researching software and hardware related to new technologies and the associated data opportunities.
Day to day liaison with clients, internal departments and 3rd party suppliers to enhance the work.
The right person will have experience in:
Data transformation
Advanced analytics and statistics
Client consulting and management
Strategy
Some recent highlights
In addition to growing our business with high profile and forward-thinking clients our creativity and effectiveness has been recognised by our peers.
Adobe Innovation Award 2018: Data-Driven Marketing Implementation & Multi-Solution Implementation
Contagious Pioneers 2019: placed 5th
The Drum's Big Won Report 2018: 9th Most Creative Agency in the World
Tangrams 2018: Asia Effectiveness Agency of the Year
Australian Effie Awards 2018: Agency of the Year, 1 Gold, 5 Silver
Mumbrella 2018: Full Service & Media Agency of the Year, Media Campaign of the Year
Adnews 2018: Australian, Victorian & Customer Experience Agency of the Year
Cannes Lions 2018: 1 Gold, 5 Silver, 4 Bronze & 18 Finalists
B&T 2018: Media Agency & Marketing Consultancy of the Year
The One Club's ADC 2018: Australian Agency of the Year
Caples 2018: Best in Show, 6 Gold, 9 Silver & 4 Bronze
AFR Most Innovative Companies 2018: #4 in Australia and Best Marketing Innovation
The Clemenger Group supports an inclusive workplace and welcomes applicants from diverse backgrounds.
To gain an insight as to what it is like to work at CHE Proximity please click on the people story below: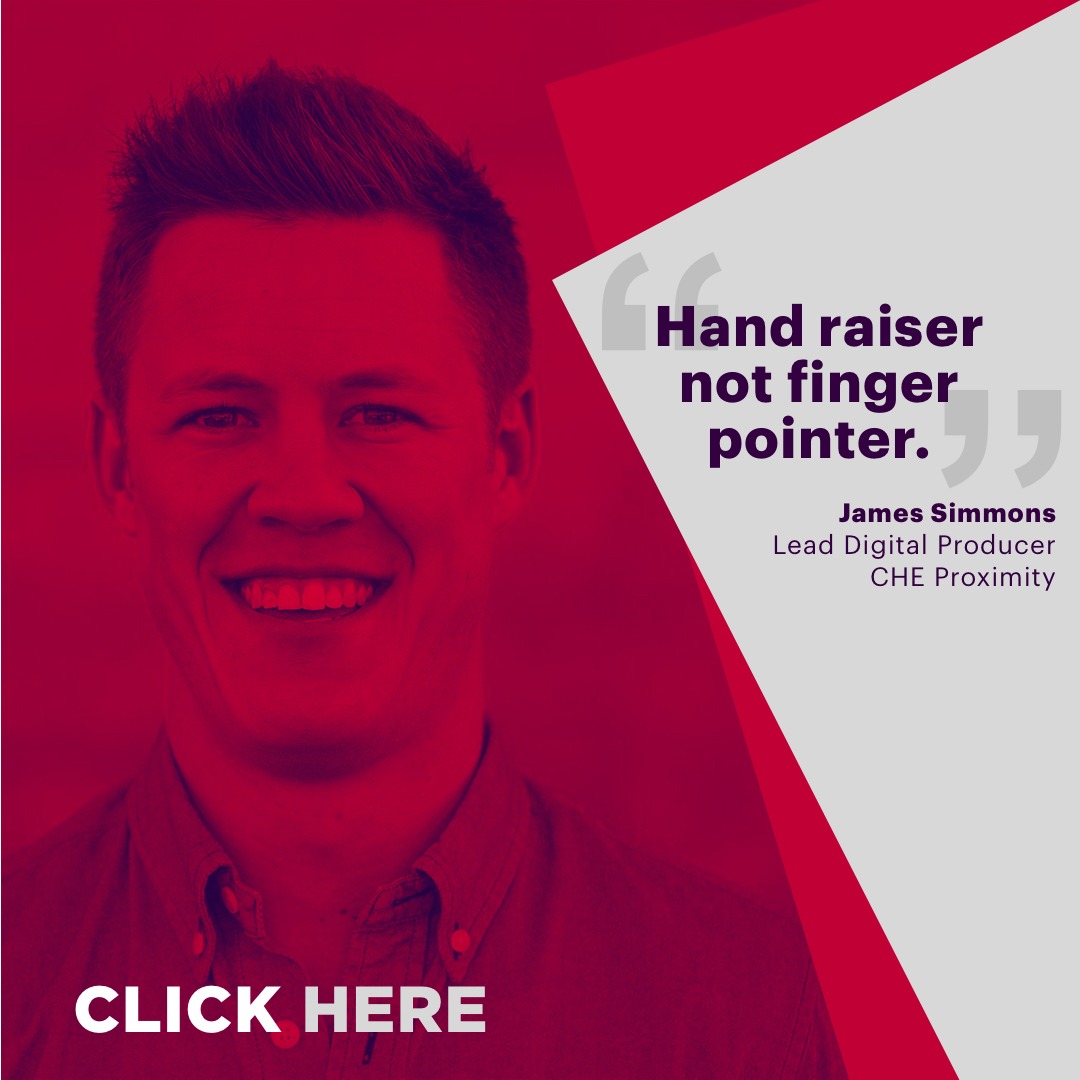 Get notified for similar jobs
You'll receive updates once a week