Account Director
CHE Proximity | Melbourne-VIC

Job Reference:
CLM/1421939
| | |
| --- | --- |
| Category: | Account/Project Management |
| Position Type: | Fixed Term |
| Attachments: | No File Attached |
| Share This: | |
More than ever before the medium, the message and it's sequencing are inseparable from each other.
'Unlike any time in history, connecting the medium, the message, and its sequencing to the consumer is more vital than ever.
Connected creativity is the synchronization of strategic positioning, engaging creative, combined with the next generation of engagement planning to ensure ideas create the cut-through needed to deliver the strongest commercial performances. Today, creativity cannot be left to chance. One brand expression or big TV ad is simply not enough.
More than ever, brands need to live in culture and our consumers worlds, allowing audiences to not only consume brands, but take part in owning, creating and amplifying them. To do this, the role of influencers, publishers, the news and bought media are inseparable from each other and the expression of the idea itself. To create such work, the classic disciplines of the marketing mix – advertising, experience, PR, CRM, media, digital – must all be unified, removing P&Ls, biases and incumbency to reveal a new breed of agnostic agency, resulting in connected creativity.
At CHE Proximity, we see this as the shift from brand as advertising to brand as experience. It is as profound a change in advertising as the printing press was to the democratisation of information. We are investing our every effort into leading this transformation and in doing so, supporting the sustainability of our cherished industry as an essential ingredient of modern commerce.
This is what we call Connected Creativity.
Who is 1Mazda @ CHE Proximity?
Mazda and CHE Proximity have had a long and incredibly successful relationship for over 40 years. Due to the vast, varied and scale work, 1Mazda@CHE Proximity operates as a 'sub' agency with the larger CHE Proximity agency. This allows us to meet the specific needs of our client with dedicated resource across all departments. 
The position currently available is within the Digital & Loyalty Account Service team.
What we are looking for in an Account Director
We're looking for a senior digital MarTech lead who has experience with implementing and running marketing automation projects. The ideal candidate will be adept at switching between CRM CX strategy to technical and system integrations through to data analysis, content development, lead scoring development and journeys mapping nurture programs.
This role is to lead and manage the ongoing project implementation and optimisation of existing campaigns set up in a major marketing automation system for a leading client. This will involve working alongside Digital Producers, Solution Architects, Content & CX Strategists as well as eDM developers and digital designers.
The ongoing remit of this project is to continuously review opportunities for further integration of the platform and lead the ongoing optimisation both from a content & strategy perspective, acting as a consultant to the client and guiding them on best practise. You will need to champion the opportunities that marketing automation can bring and to work alongside the client as a partner to advise how to roll out across other areas of the customer journey, lifecycle and business.
This role will include reviewing and developing a consistent automation strategy for the client – combining triggered & behaviour driven engagement with proactive campaign eDMs.
Lead & manage all eDM and automation activity including providing guidance on segmentation, persona profiling, lead scoring and journey mapping.
A day in the life:
Oversee all eDM + automation campaigns
Oversee system integrations into the automation platform
Develop customer & communication journeys
Review and optimise content matrix and content development
Provide guidance to other account service teams on best practise and quality control for all eDM + automation activity
Work with the client on stakeholder engagement plans
Work alongside Digital Products Director to develop roadmap for platform
How will we know you are the one?
Technical capabilities
Previous experience leading & managing blue-chip accounts with a focus on eCRM & marketing automation
eDM strategy & a keen interest in CX & customer journey mapping
Advisory role for best practise, optimisation of lead scoring models, customer journeys and new opportunities
Experience with Marketing Cloud / Email Marketing + automation systems

Highly desired: Oracle Eloqua
Recognised: Salesforce /Responsys
Key skillsets
Strong client management with confidence to push back and factor into decisions long terms strategy/set up
Problem solver and ability to think beyond the presented remit
Solid team player and a good communicator
Ability to work cross department and bring people together to focus on a single goal
Data – driven
Ability to build solid relationships – both internally within the agency and with the client
Always positive, even in circumstances of extreme pressure
Loves working with people and gets on with anyone
Some recent highlights
In addition to growing our business with high profile and forward-thinking clients our creativity and effectiveness has been recognised by our peers.
Mumbrella 2019: Creative Agency of the Year, Award for Data-Driven Marketing
WARC 2019: Most Effective Agency, Australia and New Zealand
Cannes Lions 2019: 2 Silver, 2 Bronze & 7 Finalists
Contagious Pioneers 2019: placed 5th globally
The Drum's Big Won Report 2018: 9th Most Creative Agency in the World
Tangrams 2018: Asia Effectiveness Agency of the Year
Australian Effie Awards 2018: Agency of the Year
Adnews 2018: Australian, Victorian & Customer Experience Agency of the Year
B&T 2018: Media Agency & Marketing Consultancy of the Year
Adobe Innovation Award 2018: Data-Driven Marketing Implementation & Multi-Solution Implementation
AFR Most Innovative Companies 2018: #4 in Australia and Best Marketing Innovation
The Clemenger Group supports an inclusive workplace and welcomes applicants from diverse backgrounds.
To gain an insight as to what it is like to work at CHE Proximity please click on the people story below: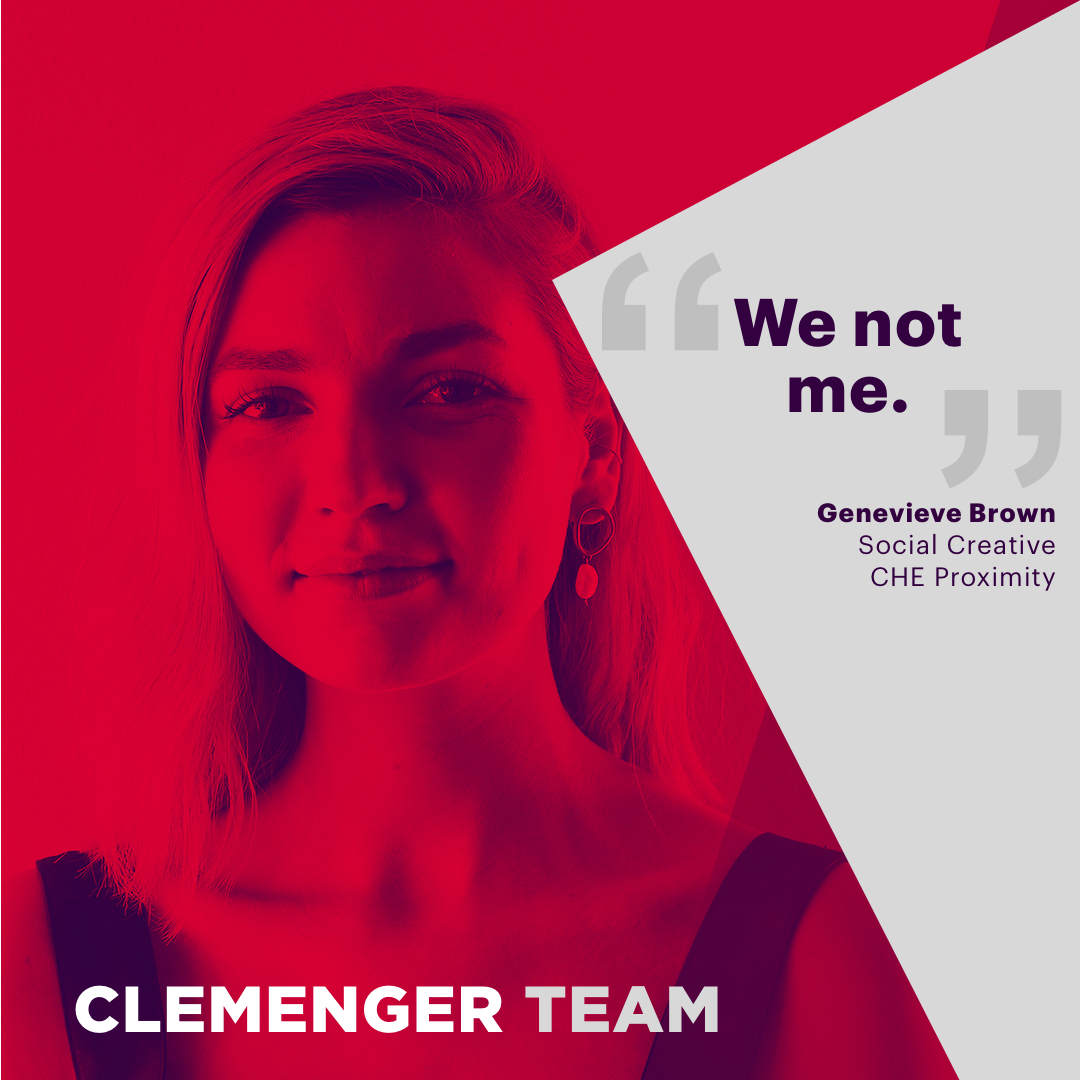 Get notified for similar jobs
You'll receive updates once a week