Digital Producer
CHE Proximity | Melbourne-VIC

Job Reference:
CLM/1424861
| | |
| --- | --- |
| Category: | Digital Production |
| Position Type: | Full Time |
| Attachments: | No File Attached |
| Share This: | |
More than ever before the medium, the message and it's sequencing are inseparable from each other.
'Unlike any time in history, connecting the medium, the message, and its sequencing to the consumer is more vital than ever.
Connected creativity is the synchronization of strategic positioning, engaging creative, combined with the next generation of engagement planning to ensure ideas create the cut-through needed to deliver the strongest commercial performances. Today, creativity cannot be left to chance. One brand expression or big TV ad is simply not enough.
More than ever, brands need to live in culture and our consumers worlds, allowing audiences to not only consume brands, but take part in owning, creating and amplifying them. To do this, the role of influencers, publishers, the news and bought media are inseparable from each other and the expression of the idea itself. To create such work, the classic disciplines of the marketing mix – advertising, experience, PR, CRM, media, digital – must all be unified, removing P&Ls, biases and incumbency to reveal a new breed of agnostic agency, resulting in connected creativity.
At CHE Proximity, we see this as the shift from brand as advertising to brand as experience. It is as profound a change in advertising as the printing press was to the democratisation of information. We are investing our every effort into leading this transformation and in doing so, supporting the sustainability of our cherished industry as an essential ingredient of modern commerce.
This is what we call Connected Creativity.
That's why we are looking for the new breed of Digital Producer
Managing and producing innovative digital projects within a team of passionate digital specialists. This role is responsible for the timely delivery of quality digital products, ensuring stakeholder satisfaction and budget management. They should be process driven and an exceptional communicator.
A day in the life
Successfully delivering multiple digital projects across various client accounts
Estimating budgets for simpler digital activity
Managing budget, timelines and product testing and delivery
Manage project issues and assumptions/decisions and escalate where appropriate
Ensuring projects are delivered on time and within, or under budget
Ensuring expectations are set and met for the client
Managing internal stakeholders Interfacing directly with client to take development briefs
Resource management of the design and development team in conjunction with other producers
Work collaboratively with account service, technical and creative teams
Estimate and plan projects, assign team roles and responsibilities
Manage projects to an agreed plan and specification
Motivate and generate enthusiasm within the project team
Translating production/creative briefs into workflow
Ensure all members of the project team understand the brief
Compiling case studies and monitoring projects during and post-live
Proactive in implementing and suggesting new processes and solutions
A sense of ownership and responsibility for deliverables
Demonstrating excellent communication (verbal/written) skills and exceptional interpersonal skills
Have excellent time management skills
Being able to maintain internal stakeholder relationships
Being able to work well under pressure and deadlines
Being a team player
How will we know you are the one?
Technical capabilities
Highly organised with great attention to detail
Tracking project performance to facilitate accurate budget vs. actual reconciliation
Strong knowledge of web, mobile, eDM and digital display and trafficking technologies
Understanding of project management principles
Experience liaising with developers and designers and a clear understanding of their world
Experience in managing projects across multiple social platforms
2+ years of digital production experience
Experience:

Experience with project managing HTML5 digital display campaigns, across ad serving platforms such as DoubleClick and Sizmek
EDM and triggered digital communications
Experience with landing pages or microsites a plus
Experience with concepting and delivering deliverables across Facebook and Instagram
Experience with a task tracking systems such as Trello and Jira
MS Project (or similar such as Merlin)
MS Office Suite (Word, Excel, Powerpoint)
Mac OS X / Windows
Adobe Suite
Able to confidently liaise with clients and third party suppliers in a professional manner
A keen interest in digital marketing
Other things that would make you great in this role
Always positive, even in circumstances of extreme pressure
Loves working with people and gets on with anyone
Ability to work in a fast paced environment
Ambitious to grow into managing a team
Wants to do innovative work, that no one has done before
Challenges the status quo in everything they do
Some recent highlights
In addition to growing our business with high profile and forward-thinking clients our creativity and effectiveness has been recognised by our peers.
Tangrams: Asia Effectiveness Agency of the Year 2018, 2019
AFR Most Innovative Companies 2019: Best Marketing Innovation 2017, 2018, 2019
Mumbrella 2019: Creative Agency of the Year, Award for Data-Driven Marketing
WARC 2019: Most Effective Agency, Australia and New Zealand
Cannes 2019: 2 Silver, 2 Bronze & 7 Finalists
The Drum's Big Won Report 2018: 9th Most Creative Agency in the World
Australian Effie Awards 2018: Agency of the Year
Adnews 2018: Australian, Victorian & Customer Experience Agency of the Year
B&T 2018: Media Agency & Marketing Consultancy of the Year
The Clemenger Group supports an inclusive workplace and welcomes applicants from diverse backgrounds.
To gain an insight as to what it is like to work at CHE Proximity please click on the people story below: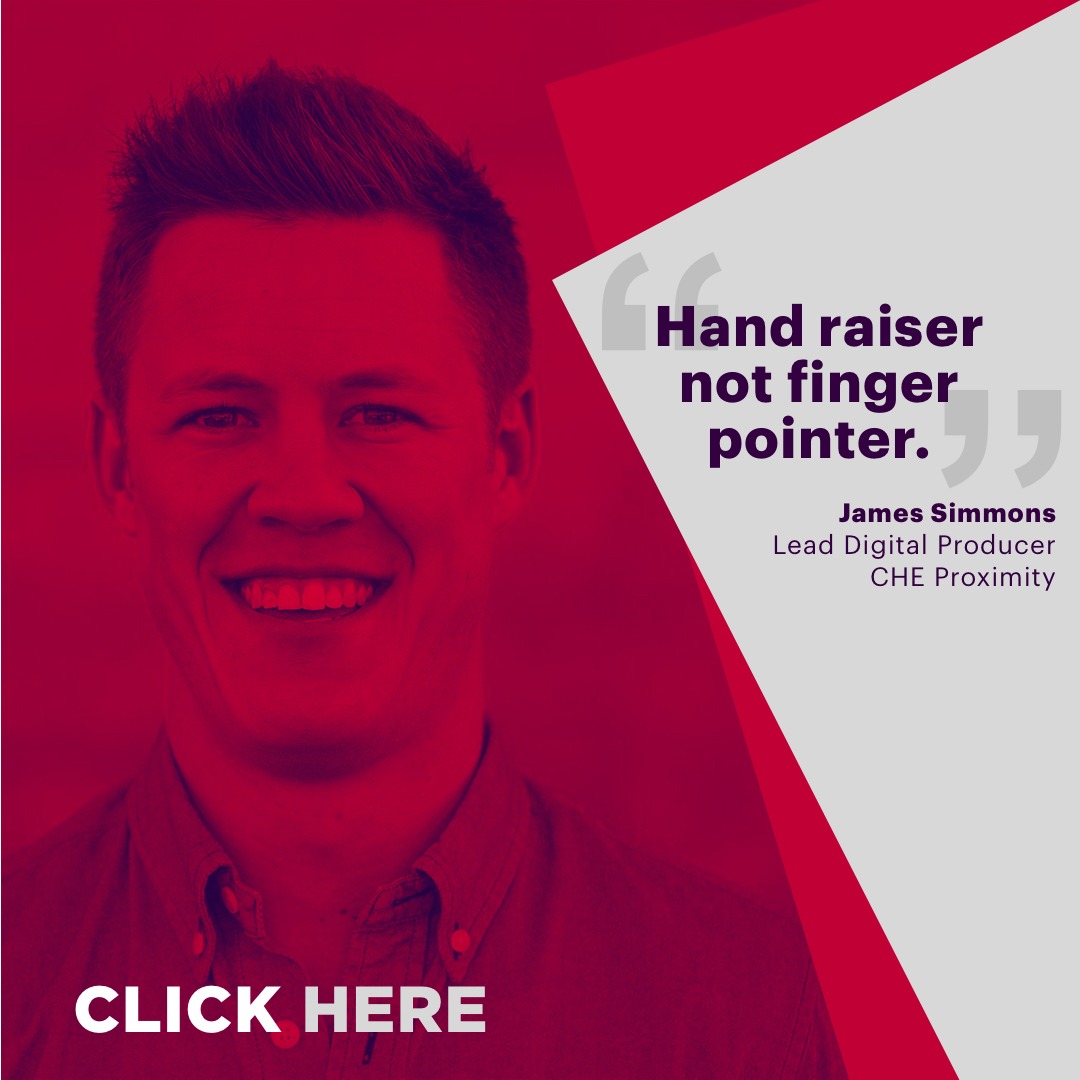 Get notified for similar jobs
You'll receive updates once a week