Account Director (CRM)
CHE Proximity | Melbourne-VIC

Job Reference:
CLM/1425191
| | |
| --- | --- |
| Category: | Account/Project Management |
| Position Type: | Full Time |
| Attachments: | No File Attached |
| Share This: | |
More than ever before the medium, the message and it's sequencing are inseparable from each other.
'Unlike any time in history, connecting the medium, the message, and its sequencing to the consumer is more vital than ever.
Connected creativity is the synchronization of strategic positioning, engaging creative, combined with the next generation of engagement planning to ensure ideas create the cut-through needed to deliver the strongest commercial performances. Today, creativity cannot be left to chance. One brand expression or big TV ad is simply not enough.
More than ever, brands need to live in culture and our consumers worlds, allowing audiences to not only consume brands, but take part in owning, creating and amplifying them. To do this, the role of influencers, publishers, the news and bought media are inseparable from each other and the expression of the idea itself. To create such work, the classic disciplines of the marketing mix – advertising, experience, PR, CRM, media, digital – must all be unified, removing P&Ls, biases and incumbency to reveal a new breed of agnostic agency, resulting in connected creativity.
At CHE Proximity, we see this as the shift from brand as advertising to brand as experience. It is as profound a change in advertising as the printing press was to the democratisation of information. We are investing our every effort into leading this transformation and in doing so, supporting the sustainability of our cherished industry as an essential ingredient of modern commerce.
This is what we call Connected Creativity.
That's why we are looking for the new breed of Account Director 

An Account Director who lives and breathes delivering the best customer experience. Someone who understands the customer journey and identifying opportunity for improvements.  
We are looking for someone who understands what it takes to build brand loyalty and retention strategies, but also embraces the opportunity that new technology brings
A problem solver and 'go-to' for both clients and their team. A motivator with business stakeholder know how who can help the client navigate through the new work of CX & CRM to get change through.
A leader that knows what to do next, and where they're needed most.
A day in the life
Develop best practice loyalty strategies and guide the client on how to execute
Lead and manage a team to oversee the running of an industry leading communication & loyalty programme
Identify opportunities for improvements to the post-purchase experience – developing proposals to sell into the client
Manage and run communication programme budget
Identify goals, deliverables, schedules and budgets for a given project
Independently lead and make decisions that balance the needs of the client with internal goals and teams
Inspiring the team to do the best work of their lives
Manage overall job P&L
Mentoring and encouraging those around you
How will we know you are the one?
Technical capabilities
Comprehensive understanding and experience executing omni-channel campaigns
Great knowledge of web development and QA process
Strong strategic thinker who is solution orientated
Strong CX, CRM & Loyalty background
Prior experiece running a blue chip loyalty programme
Ability to run integrated campaings across digital & print
Ability to manage up and down
Proactively lead work through the agency
Ability to immerse in clients business to identify opportunities and build relationships
Excellent commercial and financial acumen
Forward planner and thinker however not afraid to roll up their sleeves and help their team when needed
Other things that would make you great in this role
Enjoys presenting to clients
Enjoys leading and supporting others
Superb creative judgment and the ability to sell work and keep it sold
Is not intimidated by the idea of working in new ways and with new technology
Ability to work cross - department and bring people together to focus on a single goal
Data – driven
Ability to build solid relationships – both internally within the agency and with the client
Always positive, even in circumstances of extreme pressure
Loves working with people and gets on with anyone
Collaborator and team player
Some recent highlights
In addition to growing our business with high profile and forward-thinking clients our creativity and effectiveness has been recognised by our peers.
Tangrams: Asia Effectiveness Agency of the Year 2018, 2019
AFR Most Innovative Companies 2019: Best Marketing Innovation 2017, 2018, 2019
Mumbrella 2019: Creative Agency of the Year, Award for Data-Driven Marketing
WARC 2019: Most Effective Agency, Australia and New Zealand
Cannes 2019: 2 Silver, 2 Bronze & 7 Finalists
The Drum's Big Won Report 2018: 9th Most Creative Agency in the World
Australian Effie Awards 2018: Agency of the Year
Adnews 2018: Australian, Victorian & Customer Experience Agency of the Year
B&T 2018: Media Agency & Marketing Consultancy of the Year
The Clemenger Group supports an inclusive workplace and welcomes applicants from diverse backgrounds.
To gain an insight as to what it is like to work at CHE Proximity please click on the people story below: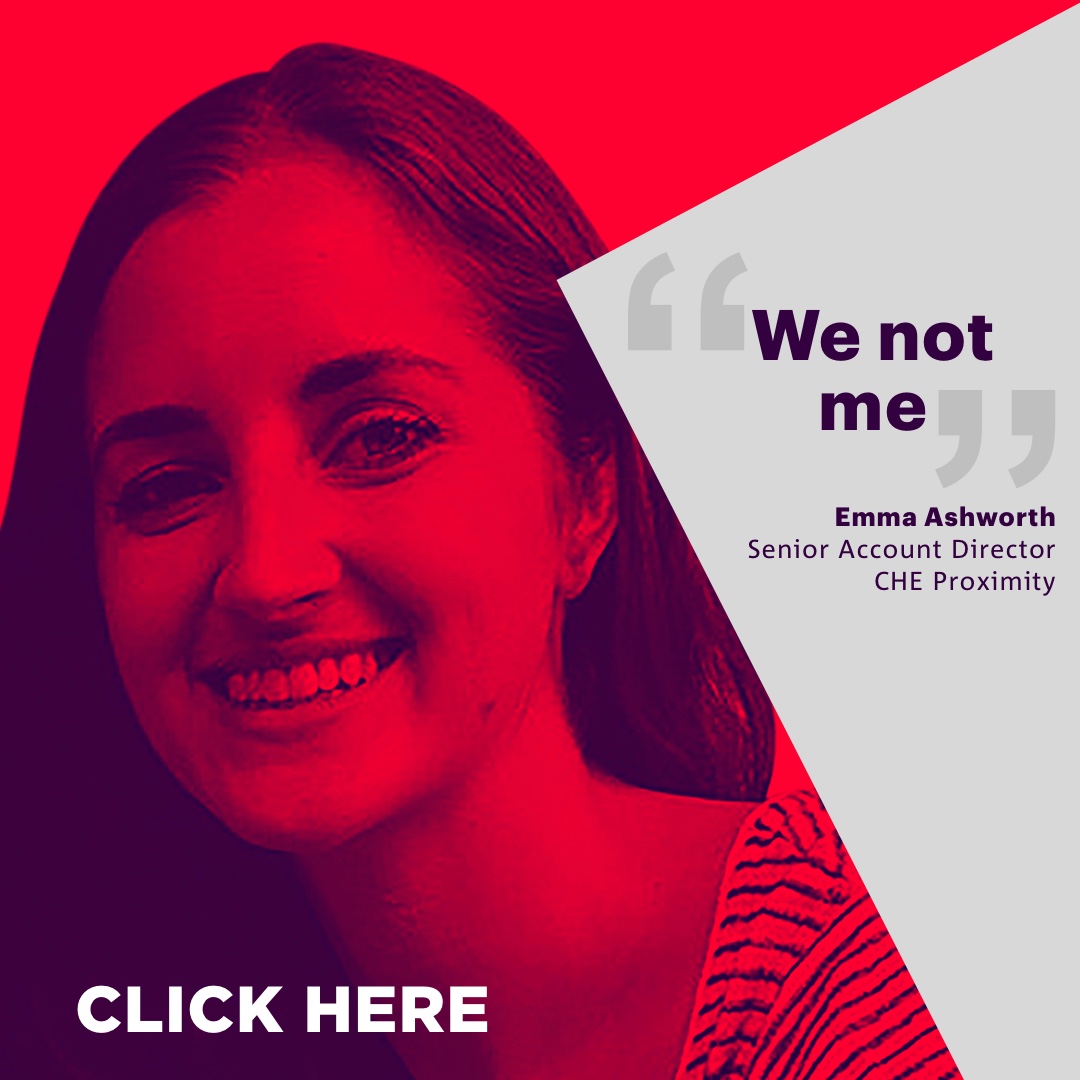 Get notified for similar jobs
You'll receive updates once a week