Editor
CHE Proximity | Sydney-NSW

Job Reference:
CLM/1444620
| | |
| --- | --- |
| Category: | Production/Studio/Finished Artist |
| Position Type: | Full Time |
| Attachments: | No File Attached |
| Share This: | |
CHE Proximity is looking for a new breed of Editor
You will have the chance to be involved at all stages of post-production through our internal facility. CHE Proximity is a full-service agency, driven by meeting our client needs with the most creative output possible. Every member of the agency is expected to be work towards this high level of creative output.
Working as part of our Production and Postproduction team you will provide services to the creative and production departments across the Melbourne and Sydney offices.  You will work with the Production team to ensure that workflow is efficient and well organised.
This role requires creative problem solving and constant evolution of processes and workflow and we expect you to contribute to this evolution.
This is mid-senior level position so there will be an expectation around experience, but development/training will be provided and there will to scope to grow.
Responsibilities
As Editor's tasks often include but are not limited to:
Data wrangling
Loading & converting footage
Maintaining file structures on the Media Server
Archiving & un-archiving job
Outputting files & masters (including CAD)
Tech checking TVCs
Setting up freelancer workstations & checking project are saved & archive correctly
Loading & checking artwork
Clappers
Generally assisting editors & maintaining suites
Liaising with IT on computer & SAN upgrades
Despatching TVCs via IMD
Managing hospitality when directors/editors are working in-house
General production support for the CHEP Films team
 Desired Skills and Experience 
A solid technical competency in Premier Pro, Photoshop, Illustrator, Media Encoder plus a good knowledge of file formats is a must.
A basic understanding of After Effects is preferred.
Proficiency in Microsoft Office and/or proficiency in computer-based systems is essential.
The ability to communicate to all levels of the business and clients is paramount. Often you will be asked to present to the most senior management and clients so ensuring you are friendly, polite,
Camera operation is desirable but not essential.
Who is CHE Proximity
More than ever before the medium, the message and it's sequencing are inseparable from each other.
'Unlike any time in history, connecting the medium, the message, and its sequencing to the consumer is more vital than ever.
Connected creativity is the synchronization of strategic positioning, engaging creative, combined with the next generation of engagement planning to ensure ideas create the cut-through needed to deliver the strongest commercial performances. Today, creativity cannot be left to chance. One brand expression or big TV ad is simply not enough.
More than ever, brands need to live in culture and our consumers worlds, allowing audiences to not only consume brands, but take part in owning, creating and amplifying them. To do this, the role of influencers, publishers, the news and bought media are inseparable from each other and the expression of the idea itself. To create such work, the classic disciplines of the marketing mix – advertising, experience, PR, CRM, media, digital – must all be unified, removing P&Ls, biases and incumbency to reveal a new breed of agnostic agency, resulting in connected creativity.
At CHE Proximity, we see this as the shift from brand as advertising to brand as experience. It is as profound a change in advertising as the printing press was to the democratisation of information. We are investing our every effort into leading this transformation and in doing so, supporting the sustainability of our cherished industry as an essential ingredient of modern commerce.
This is what we call Connected Creativity.
Some recent highlights
In addition to growing our business with high profile and forward-thinking clients our creativity and effectiveness has been recognised by our peers:
Contagious Pioneers: Top 10 Best and Bravest Agencies on the Planet 2018 ‑ 2020
B&T 2019: VIC & Direct Response/Performance Agency of the Year
London International Awards 2019: APAC Agency of the Year
Tangrams: Asia Effectiveness Agency of the Year 2018, 2019
AFR Most Innovative Companies 2019: Best Marketing Innovation 2017, 2018, 2019
Mumbrella 2019: Creative Agency of the Year, Award for Data Driven Marketing
WARC 2019: Most Effective Agency, Australia and New Zealand
WARC: Most Effective Australian Agency 2014   2019
Cannes 2019: 2 Silver, 2 Bronze & 7 Finalists 
Clemenger Group is an equal opportunity employer and is committed to building a diverse and inclusive workplace. We encourage Aboriginal, Torres Strait Islander and people of all backgrounds to apply.
At Clemenger Group we employ flexible work practices where appropriate, support charities including Peter MacCallum, and undertake a range of environmental initiatives across our businesses.
To gain an insight as to what it is like to work at CHE Proximity please click on the people story below: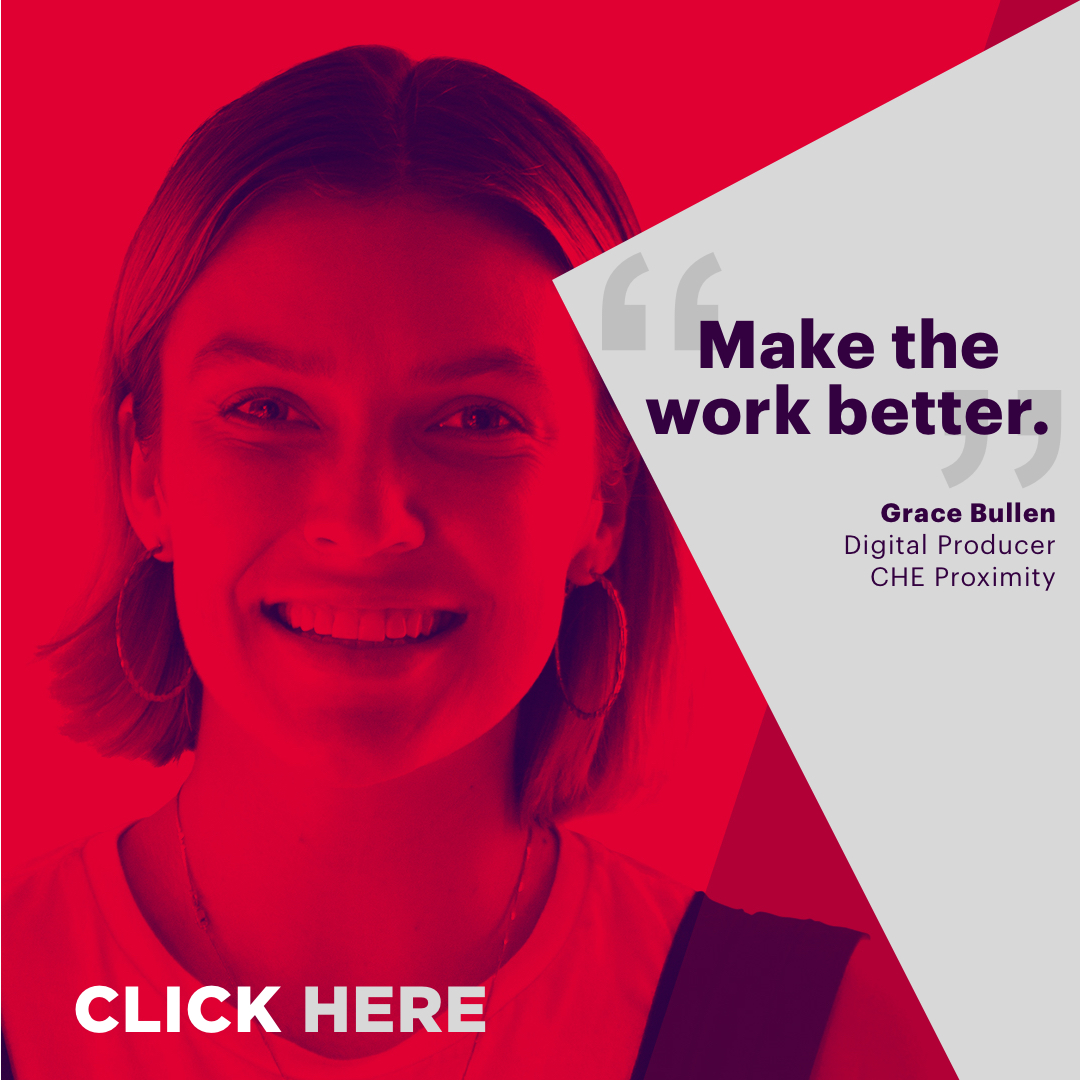 Get notified for similar jobs
You'll receive updates once a week